A sweet 2-month-old kitten without eyes hopes to find her purr-fect family soon!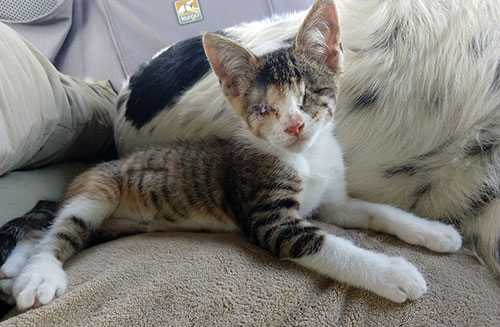 Elle the kitten arrived at the San Antonio Humane Society (SAHS) last month with severe eye infections. Her left eye was even more noticeable as it was enlarged and painful. SAHS veterinarians made the decision to remove both of her eyes to alleviate her pain and prevent further infections.
Following her surgeries, Elle's founder agreed to foster her during her healing process. As she started to feel better, Elle started to explore her new surroundings.
"Elle has been fearless, becoming more energetic and confident after her surgeries," her foster mom said. "She likes being close to you, loves to cuddle, and purrs so loudly! When she is up, she loves to play and wrestle with anyone, no matter how big, and then will cuddle up afterwards."
With the help of her whiskers, Elle learned to navigate the home in just a few days.
"She adapted pretty quickly and was able to jump up and down from our couch and bed," her foster mom added. "She still ran into things when she got excited playing and running but was able to get around our house relatively efficiently when she was walking. I have no doubt that she will be fully functional and mobile once she learns the layout of her forever home."
Elle is now back at our shelter and ready to find her fur-ever family. She is well mannered, loves being near humans, and gets along with other pets. As a visually impaired kitten, she will need special care when she is introduced to her new home to help reduce her risk of falling down stairs or off high counters. However, once she fully adapts, she can continue to live a full and happy life as an indoor cat.
"Because she has lived with limited vision for a while and is young, she should adapt well to life without sight and will use her other senses to navigate," SAHS Associate Veterinarian Dr. Leslie Hopes said. "From day one, Elle has been a happy kitten who loves people, and her loss of vision has not affected her happy little spirit."