Join us Saturday, April 20 for the El Rey Fido Coronation at the Sheraton Gunter Hotel San Antonio as we celebrate the fantastic fundraising efforts of El Rey Fido XVII and the 2019 Royal Court!
This official Fiesta® event is FREE and dog-friendly. Festively costumed pooches are encouraged! The coronation will include colorful folklórico dancers from the Danzavida De San Antonio Dance Company, Emcees Adam and Jenny from the morning show on MAGIC 105.3, and the highlight of the event: the presentation of El Rey Fido (the doggie king/queen) XVII and the 2019 Royal Court. These crowned and robed top-fundraising dogs will walk the stage in honor of their dedication to the SAHS's mission to protect and improve the lives of dogs and cats.
We hope you'll come out and celebrate with us during this fun and festive dog and family-friendly event!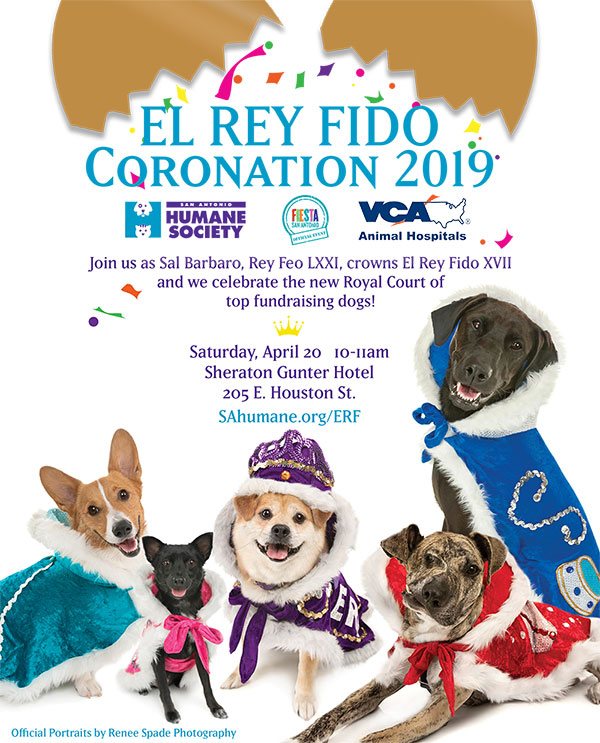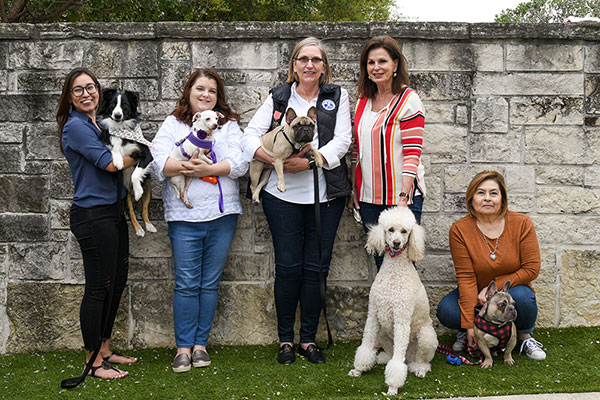 (From left: Maximus Miller-Trynoski, Bette Mid-grr, Happy Happy Hazel, Sophie Batchelor, Grayson Bleu)
The 2019 El Rey Fido fundraising competition is officially over! We are happy to announce that the participants raised over $100,000 for the dogs and cats at the San Antonio Humane Society. Leading this group of successful fundraisers and new official Fiesta® Royalty: Happy Happy Hazel (El Rey Fido XVII), Sophie Batchelor (Princess of the Food Bowl), Bette Mid-grr (Duchess of the Chew Toy), Grayson Bleu (Duke of the Fire Hydrant), and Maximus Miller-Trynoski (Knight of the Royal Court). We are very thankful for all who supported everyone's fundraising efforts and we look forward to Fiesta 2019!