Little 6-month-old Denali was found completely covered with sarcoptic mange and without fur before arriving at the San Antonio Humane Society (SAHS) last month.
The young, neglected puppy was immediately quarantined, feeling extremely sad and itchy all over her tiny pink-skinned body. Our medical team quickly began treatment to get rid of the mange, which is caused by a mite infestation on the skin. They made sure to keep her warm and comfortable every step of the way.
"Denali was nearly bald and covered in scabs due to her mange upon intake," SAHS Associate Veterinarian Dr. Leslie Hopes said. "She was provided a little sweater to keep her warm in her kennel and lots of cushy towels and blankets to snuggle."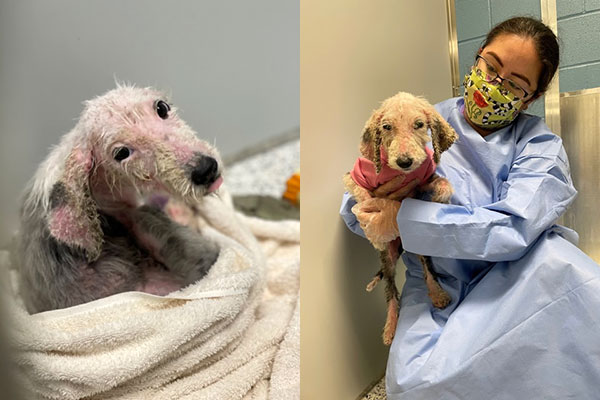 Thanks to our new Leeu Naylor Medical Building, we are able to take in special medical cases like Denali. Our specialized dermatology ward allows us to keep pets with contagious diseases, like sarcoptic mange or ringworm, secluded until they fully recover and become ready for adoption.
Within the next four weeks, Denali received medicated baths and her fur started growing back, and the mange slowly left her body. She started gaining weight and playing like a normal puppy. Her once sad face now radiates with big, happy smiles. She's so full of energy and loves life!
Thanks to our caring medical staff, Denali has made a full recovery.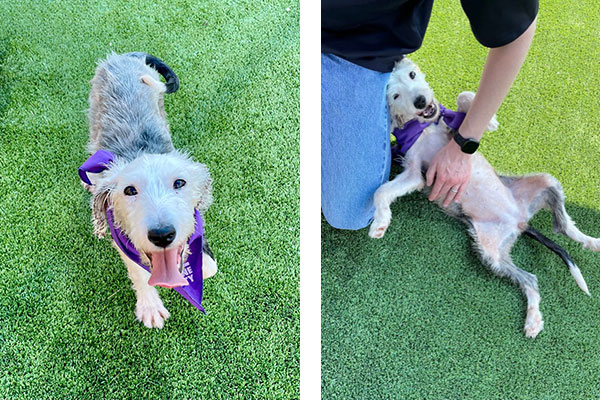 "She's young, so like any puppy, she'll be looking for a home that is looking to add an energetic, joyful, bouncy puppy as a long-term companion to their family," SAHS Associate Veterinarian Dr. Traci Gilbert added.
We are happy to report that after receiving much-needed medical care and lots of TLC, Denali made a full recovery and found her perfect FURever home in…CALIFORNIA!