Volunteer Program
IMPORTANT INFORMATION!
- SAHS Volunteering & Covid-19
- Volunteer Capabilities Overview
- Volunteer Handbook

A Message from the Volunteer Coordinator
Thank you for your interest in the San Antonio Humane Society (SAHS) Volunteer Program! We understand your time is valuable and we appreciate that you're thinking about spending some of it with us! Volunteers are vital in helping us continue our mission to improve the lives of dogs and cats in our community by providing shelter, care, adoption, rescue, spay/neuter programs, and community education.
Due to Covid-19, the SAHS Volunteer program has been put on hold since March of 2020. Perhaps one small positive to come out of this temporary pause is that we finally had the time to do a thorough evaluation and reconstruction of our volunteer program. We were able to evaluate the needs of the staff as well as the pets in our care and create what we hope is a program that will truly prioritize the needs of the SAHS staff and pets while still being fun and rewarding for our volunteers. One big change you'll notice is that we have moved away from the drop-in anytime style program to a structured program with specific shifts and tasks for each volunteer team. We hope this change helps provide our staff and pets with more consistent volunteer assistance.
As we begin 2021, we are excited to start slowly opening our program and recruiting volunteers again! Please visit SAhumane.givepulse.com for more information about our program and to apply for open positions.

Sarah Rihn, Volunteer Coordinator
Email: volunteer@SAhumane.org
---
Volunteer Teams:
---
President's Volunteer Service Award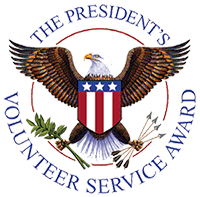 The San Antonio Humane Society (SAHS) is proud to announce the availability of the President's Volunteer Service Award, a prestigious national honor offered in recognition of volunteer commitment. Established in 2003, this award is given by the President of the United States and honors individuals who have demonstrated a sustained commitment to volunteer service over the course of 12 months. As a Certifying Organization of the President's Volunteer Service Award, the SAHS can nominate potential recipients and distribute the Award to those who meet or exceed the Award criteria.
Eligibility
Hours are measured over a 12-month period (Oct. 1 - Sept. 30) and awards are designated based on cumulative hours. The awards are offered in multiple levels and are designed to recognize each milestone of your service achievement. Levels include bronze, silver, gold and the highest honor, the President's Lifetime Achievement Award for those who contribute more than 4,000 hours of service in their lifetime.


Along with the ultimate honor of presidential recognition, recipients may receive a personalized certificate, an official pin, medallion or coin, and a congratulatory letter from the President of the United States.
---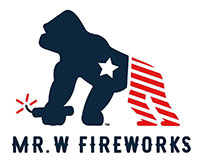 Our volunteer program is sponsored by Mr. W Fireworks.