Tipsy
August 24 - Adopted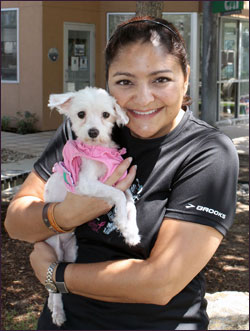 August 22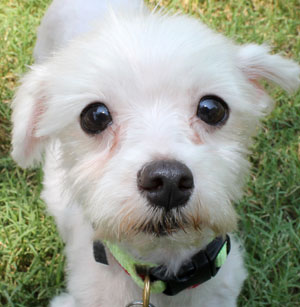 As if Tipsy hadn't become enough of a star around our shelter and through our website and Facebook page, today (Aug 22nd) she is being featured on WOAI news! We are so pleased that Tipsy has made such a quick recovery and our happy to announce that she is available for adoption this afternoon and will be ready to go home with her forever loving family on Friday. If you haven't seen a recent picture of her, take a look (above); she's had a complete makeover and is looking great! Way to go Tipsy!

August 9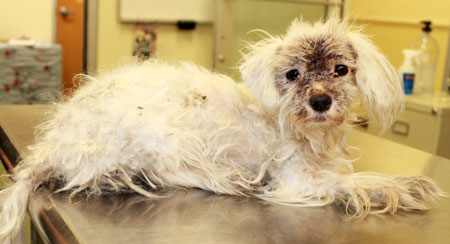 What a difference a day makes, especially for one of our shelter's newest additions, an 8 year old female Maltese mix named Tipsy. On August 9th, Tipsy was thrown from a car into a parking lot. While this act is shocking in itself, Tipsy's condition only added to the sadness of her situation; she was already suffering from malnourishment, anemia, and neglect. Luckily this event was witnessed and Tipsy was quickly scooped up and brought to the shelter.

After being examined by our Chief Shelter Veterinarian, Dr. Courtney Bridgeman, Tipsy received something she had been in need of for a long time, a nice warm bath! She was given a flea bath and then lovingly groomed for more than an hour and a half to help comb the hundreds of fleas from her matted fur. That evening Tipsy also enjoyed something she probably hadn't had in some time, a healthy meal and plenty of fresh water.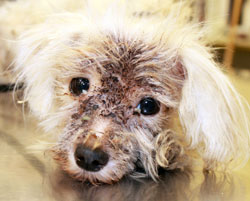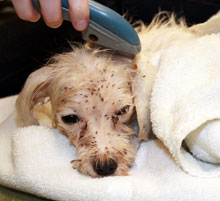 With just the basics, Tipsy started to look less and less like an abandoned dog and more like what we can tell she has always been on the inside, a sweet and loving companion. We know her health isn't going to drastically improve over night, but what a difference each day will make. With each additional day of proper care we are confident she will continue to grow healthier and it won't be long before she is meeting her new family.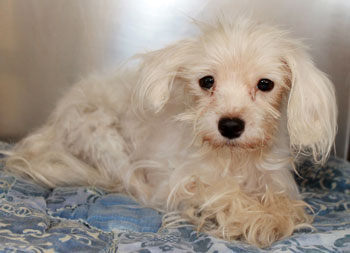 Wondering how you can make a difference today in the lives of our medical rescue dogs like Tipsy? Donate to our Michaels' Medical Rescue Fund, where 100% of your donations will go towards the care and treatment of our medical rescue dogs and cats!