Microchipping
Eight to ten million lost, abandoned, and homeless pets enter animal shelters each year in North America. Approximately two million pets that are reported missing each year may be victims of theft. Only 14% of dogs and cats who end up in animal shelters return to their homes. Without proper identification, it is difficult to reunite pets with their owners. Microchipping offers you a permanent method of identifying your pet. Registering your pet's microchip enables us to help get your pet home.

The San Antonio Humane Society microchips all shelter animals and offers microchipping to the public onsite and at certain events, through the 24PetWatch Microchip Identification service. Please call (210-226-7461) to schedule an appointment today. The microchip comes with a free ID tag for your animal's collar with its microchip number and 24PetWatch phone number and website address.

The Importance of microchipping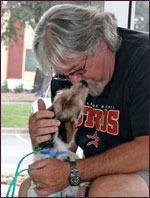 About five years ago, a teen-age boy moved from the home of his dad and step-mom in Chicago to his mom's home in Austin, bringing along his Jack Russell terrier. What happened to the little pup next is unclear. One day the dog was gone.

Fast forward to October 2010: Staff members of the San Antonio Humane Society visit another animal organization to transfer dogs into the shelter. One dog happens to be a Jack Russell terrier. In the process of checking the animal into the SAHS, he is scanned for a microchip.
Sure enough, he has one...

Read the Story - Watch the Video and Photos



Jennifer and Colby Jack finally together again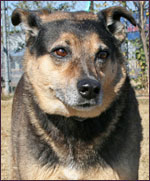 The trip to the San Antonio Humane Society on January 28th, 2011 was one trip Jennifer Gaskill will never forget; some might even say it has that "fairy tale ending." Her journey started back in September 2009 when Jennifer and her 4 year old German Shepherd mix, Colby Jack, were moving from La Coste to Spring Branch, Texas. The daily 120 mile round trip began wearing on Colby and he became anxious, nervous, and confused. With Colby not feeling like himself, Jennifer decided to leave him with her father in San Antonio for a couple of days while she finished the move.
After settling into her new home, Jennifer started to make her way back to Colby when she received a heart-wrenching call. Colby had escaped from her father's backyard. Devastated by the news, Jennifer rushed to her father's home and began searching for Colby. She posted signs, contacted Animal Care Services, called clinics, and even starting checking a national watch list. Jennifer also used social networking sites like Craigslist, Myspace, and Facebook to search for Colby. Shortly after her efforts, she began receiving calls and emails concerning missing dogs, but none could confirm that they had seen her Colby.

Read the Story and watch the video!


---
The cost of microchip implantation and registration is only $27.50 at the San Antonio Humane Society.
Don't let your pet become a statistic. Please microchip your pets.