Please donate to Michaels Medical Rescue Fund to help other animals in need.

At the San Antonio Humane Society, we make every effort to find the best home for the pets in our care. Sadly, many of the dogs and cats that come to us have been abused, neglected, injured or have chronic illnesses. These injured or ill animals are treated based on the funds available at the time of intake or illness. Through the Michaels Medical Rescue Fund, you can choose to make a contribution to a special needs animal. This will decrease the costs associated with the provision of necessary medical care they need and deserve. Once these animals are healthy, they will then be available to the public for adoption. We appreciate any contribution offered.
Winter (Summer 2018)
Winter was brought to the San Antonio Humane Society by a good Samaritan who found him injured and limping. Likely caused by a car accident, Winter's right front leg suffered terrible nerve damage, was necrotic, and had to be removed. Because the leg removed was a weight-bearing leg, he may have a more difficult time adjusting as his remaining front leg will be placed under more stress. A donor has generously sponsored his adoption fee, which means adopters are able to take him home without paying a fee. We do believe Winter may be deaf, and recommend his adopters seek out and establish a relationship with a veterinarian to confirm. Despite his difficulties, he's a sweet bud with a docile heart. Because of his deafness, adopters should take great care not to startle or surprise him. Although he is heartworm positive, adopters are able to take advantage of FREE heartworm treatment at local VCA Animal Hospitals. Winter is a friendly pooch. He may have to take it slow now, but he's eager to be welcomed into a loving home.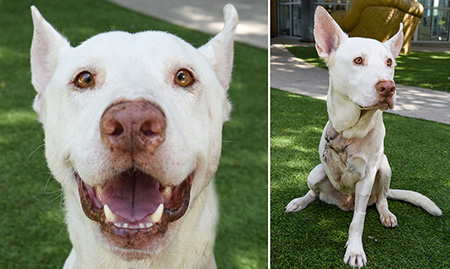 Mr.Kitten (Summer 2018)
It's been five weeks since Mr. Kitten was first brought to us, and his transformation is heartwarming! When he first came to us, Mr. Kitten was flea-ridden and in terrible need of medical attention. It's unknown what caused his eye problems, but to prevent further health risks the decision was made to remove his diseased eye. Although not routine, Mr. Kitten's plight was definitely not unique. We treat many injured and ill animals who have suffered the difficulties of living as a stray in the hopes that they will know the joy of a healthy life with their forever family. Mr. Kitten's sutures have been removed and he is available for adoption today! He loves other friendly felines, enjoys running around (as kittens do) and letting you know when he's hungry.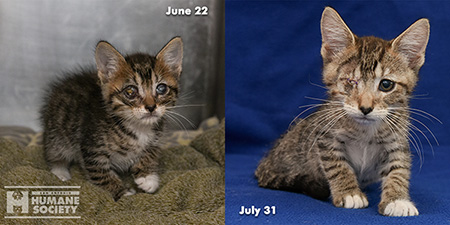 On August 10, 2012, we had to say goodbye to an incredible man and member of the San Antonio Humane Society family, Mr. Bill Michaels. Aside from being a dedicated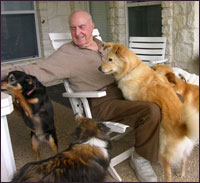 supporter, Bill exemplified the leadership, vision, and passion that were needed to help us make invaluable strides in our mission. It is because of him that the Bill and Helen Michaels Medical Rescue Fund was founded and stands today as a living legacy to their passion for the medical rescue of sick and injured dogs and cats. One thing Bill was never short on was his confidence in our facility and staff, something that still inspires us daily. As an organization, each day we strive to live our mission with passion the way Bill did, and hope that our continued strides to ensure every dog and cat has a permanent, loving home will be a testament to his good-will, dedication and stewardship to all those animals who seek shelter and care here at the San Antonio Humane Society. Our deepest sympathies go out to his family and many friends, and please know that both Bill and Helen Michaels will always have a place in our hearts.