Please donate to Michaels Medical Rescue Fund to help other animals in need.

At the San Antonio Humane Society, we make every effort to find the best home for the pets in our care. Sadly, many of the dogs and cats that come to us have been abused, neglected, injured or have chronic illnesses. These injured or ill animals are treated based on the funds available at the time of intake or illness. Through the Michaels Medical Rescue Fund, you can choose to make a contribution to a special needs animal. This will decrease the costs associated with the provision of necessary medical care they need and deserve. Once these animals are healthy, they will then be available to the public for adoption. We appreciate any contribution offered.
December 2020 - Clementine
Clementine was found in the middle of a parking lot with an open wound on her side, and brought to the SAHS. It was presumed that she may have been attacked by another animal. Her wound required daily bandage changes (twice daily initially), and a lot of TLC from her foster mom. Clementine has recovered and this sweet girl is ready for her forever family. She is an enormous bundle of energy that would do best in a home where she has a friend to release that energy with (i.e. a young, playful feline or a small dog).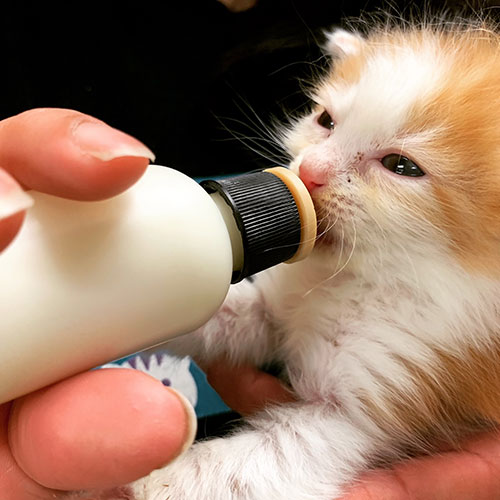 October 2020 - Elle
A sweet 2-month-old kitten without eyes hopes to find her purr-fect family soon!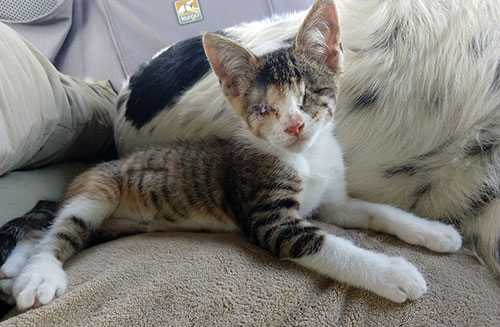 Elle the kitten arrived at the San Antonio Humane Society (SAHS) last month with severe eye infections. Her left eye was even more noticeable as it was enlarged and painful. SAHS veterinarians made the decision to remove both of her eyes to alleviate her pain and prevent further infections.
Following her surgeries, Elle's founder agreed to foster her during her healing process. As she started to feel better, Elle started to explore her new surroundings.
"Elle has been fearless, becoming more energetic and confident after her surgeries," her foster mom said. "She likes being close to you, loves to cuddle, and purrs so loudly! When she is up, she loves to play and wrestle with anyone, no matter how big, and then will cuddle up afterwards."
With the help of her whiskers, Elle learned to navigate the home in just a few days.
"She adapted pretty quickly and was able to jump up and down from our couch and bed," her foster mom added. "She still ran into things when she got excited playing and running but was able to get around our house relatively efficiently when she was walking. I have no doubt that she will be fully functional and mobile once she learns the layout of her forever home."
Elle is now back at our shelter and ready to find her fur-ever family. She is well mannered, loves being near humans, and gets along with other pets. As a visually impaired kitten, she will need special care when she is introduced to her new home to help reduce her risk of falling down stairs or off high counters. However, once she fully adapts, she can continue to live a full and happy life as an indoor cat.
"Because she has lived with limited vision for a while and is young, she should adapt well to life without sight and will use her other senses to navigate," SAHS Associate Veterinarian Dr. Leslie Hopes said. "From day one, Elle has been a happy kitten who loves people, and her loss of vision has not affected her happy little spirit."
---
October 2020 - Gunner
An adorable 2-month-old kitten arrived at the San Antonio Humane Society (SAHS) on Sept. 23 in urgent need of love and extra care.
He was found abandoned behind a car dealership with his ears and tail missing. It appears that someone purposely cut them off before he was rescued and taken to the SAHS.
SAHS veterinarians and staff were determined to make him feel safe and loved again. They named him Gunner and gave him the special care he desperately needed. They gently cleaned his ears, shaved and cleaned his tail, and applied a special cream to help treat his wounds. He also received pain medication and laser therapy on his ears and tail to help stimulate the healing process.
Following his treatment, Gunner was sent to a loving foster family to continue his recovery and slowly began to trust people again. Generous SAHS supporters also donated special litter that Gunner needed while his wounds healed.
After several weeks of love and cuddles, this sweet boy is doing much better and is now ready to find his "purr-fect" home.
"He does the cutest little meows, and once he trusts you, loves to be petted and receive kisses," his foster mom said. "He would make the perfect addition to any loving family."
---


October 2020 - Ella
Ella arrived at the San Antonio Humane Society on Sept. 23 with a suspected broken jaw. However, upon evaluation, it was determined that Ella had severe mandibular brachygnathism, a condition where the bottom jaw is shorter than normal..
Although she was not showing it, the sweet 6-month-old Retriever was in pain. Because of her shortened lower jaw, her bite was off and her bottom canines were causing trauma to the roof of her mouth. If not corrected, her condition could worsen and result in bone loss, tooth loss and oronasal fistulas, which is an abnormal hole connecting the mouth and nose.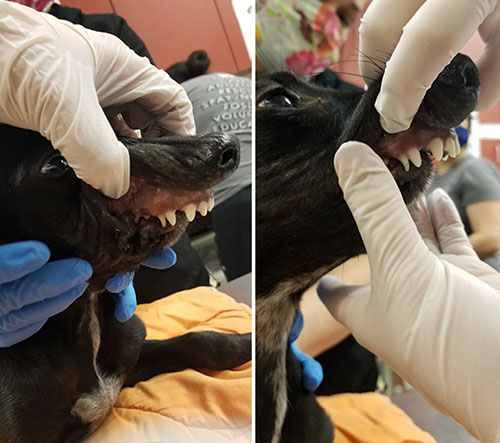 SAHS veterinarians determined that Ella required a specialized surgery to correct her painful condition. Thanks to the generosity of our donors, Ella was able to travel to see the nearest veterinary dental specialist, Dr. Tiffany Menke, at Austin Veterinary Emergency Services on Oct. 13 for her procedure.
A crown amputation removed the sharp tips of the bottom canine teeth, resulting in a shorter and blunter tooth that will not have contact with the roof of her mouth. The tooth then required a vital pulpotomy, which is a filling that allows the tooth to remain alive and healthy. Two back molars were also extracted to allow her remaining teeth to erupt and have space.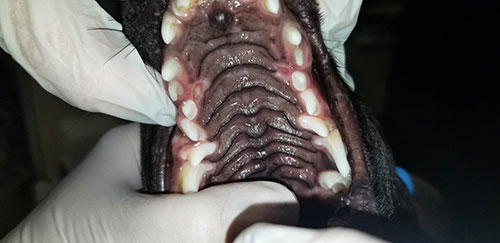 Ella's procedure was successful, and she has been a perfect patient throughout this entire treatment.
"She rode so well in the car and was such a lovely houseguest following her surgery," SAHS Associate Veterinarian Dr. Leslie Hopes said. "Her tail has not stopped wagging; she will make her future adopters very happy."
Her recovery process will include a short course of antibiotics and pain medications, soft food for several weeks, and of course, plenty of cuddles. She will also require future checkups and yearly dental cleanings due to her shortened jaw.
"It's been a great experience to provide a specialized procedure for a young puppy that will change her life and remove a lot of pain from her daily activities. This definitely would not have been possible without the incredible support of our generous donors," Dr. Hopes concluded.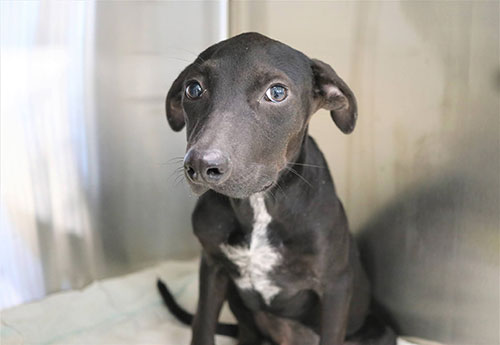 Ella is now recovering back at shelter and is ready to find her FURever home! She is nearly 100 percent potty-trained, sleeps well through the night and absolutely loves other dogs.
If you are interested in making Ella a part of your family, submit an online adoption application at SAhumane.org/dogs today!
On August 10, 2012, we had to say goodbye to an incredible man and member of the San Antonio Humane Society family, Mr. Bill Michaels. Aside from being a dedicated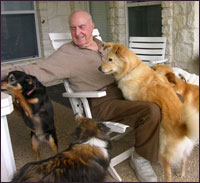 supporter, Bill exemplified the leadership, vision, and passion that were needed to help us make invaluable strides in our mission. It is because of him that the Bill and Helen Michaels Medical Rescue Fund was founded and stands today as a living legacy to their passion for the medical rescue of sick and injured dogs and cats. One thing Bill was never short on was his confidence in our facility and staff, something that still inspires us daily. As an organization, each day we strive to live our mission with passion the way Bill did, and hope that our continued strides to ensure every dog and cat has a permanent, loving home will be a testament to his good-will, dedication and stewardship to all those animals who seek shelter and care here at the San Antonio Humane Society. Our deepest sympathies go out to his family and many friends, and please know that both Bill and Helen Michaels will always have a place in our hearts.