Volunteer Program
A Message from the Volunteer Coordinator

Thank you for your interest in the San Antonio Humane Society (SAHS) Volunteer Program! Volunteers are vital in helping us continue our mission to improve the lives of dogs and cats in our community by providing shelter, care, adoption, rescue, spay/neuter programs, and community education.
Before registering for an orientation, please review the following information to ensure our program is the right fit for you.

- SAHS Volunteering & Covid-19
- Volunteer Capabilities Overview
- Volunteer Handbook
We understand your time is valuable and we appreciate that you're thinking about spending some of it with us!
---
About Our Programs
SAHS General Volunteer Program
The SAHS General Volunteer Program offers individuals a variety of volunteer opportunities. Examples include:
Program Requirements
Individuals must be a minimum of 16 years of age to be accepted into the SAHS General Volunteer Program.
Individuals between the ages of 16 and 17 will be required to have their parents sign volunteer release forms.
Applicants 18 years and older will be required to complete a background check.
If you have concerns about your ability to pass a background check please contact volunteer@sahumane.org.
The fee for this service is $15.50 and is paid directly to the background check company.
Individuals are asked to be able to volunteer a minimum of two shifts per month to remain active.
Volunteers must be able to register for shifts a minimum of 24 hours in advance. No drop-in volunteering is allowed.
How to get started
Register for a Volunteer Orientation
- Space is limited. We hold three orientations per month with a maximum of 20 individuals per orientation.
- Individuals are required to pay a $15 fee when registering to reserve their seats. This fee helps the SAHS offset the cost of volunteer software, insurance, and supplies.
- An account must be created and a ticket must be purchased individually for each person attending orientation.


Check your inbox for a confirmation email from the Volunteer Coordinator. This email will contain the links you'll need to:
- Update your volunteer profile in GivePulse
- Submit your background check (18+)
Upcoming General Volunteer Orientations
---
---
---
President's Volunteer Service Award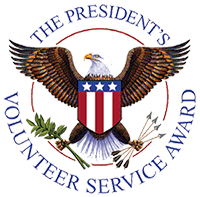 The San Antonio Humane Society (SAHS) is proud to announce the availability of the President's Volunteer Service Award, a prestigious national honor offered in recognition of volunteer commitment. Established in 2003, this award is given by the President of the United States and honors individuals who have demonstrated a sustained commitment to volunteer service over the course of 12 months. As a Certifying Organization of the President's Volunteer Service Award, the SAHS can nominate potential recipients and distribute the Award to those who meet or exceed the Award criteria.

Eligibility
Hours are measured over a 12-month period (Oct. 1 - Sept. 30) and awards are designated based on cumulative hours. The awards are offered in multiple levels and are designed to recognize each milestone of your service achievement. Levels include bronze, silver, gold and the highest honor, the President's Lifetime Achievement Award for those who contribute more than 4,000 hours of service in their lifetime.


Along with the ultimate honor of presidential recognition, recipients may receive a personalized certificate, an official pin, medallion or coin, and a congratulatory letter from the President of the United States.
---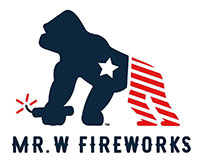 Our volunteer program is sponsored by Mr. W Fireworks.