Carrey gets a second chance at life – If it's true that cats have nine lives, then Carrey was already close to running out. This sweet 6-month-old kitten has been through a lot during his short life. Abandoned and forced to fend for himself without access to food, water, shelter, and medical care, matters were further complicated when he was injured, resulting in a fractured leg.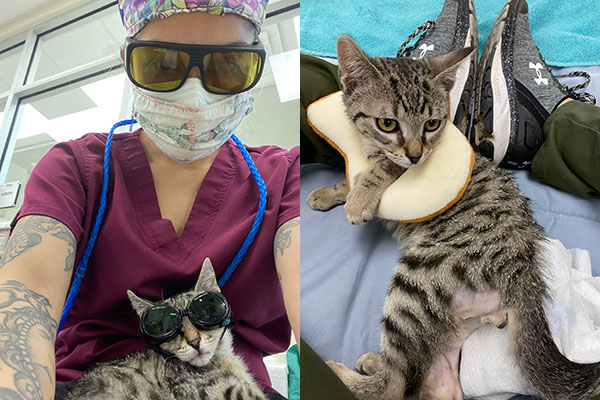 Luckily for Carrey, a Good Samaritan found him and brought him to the San Antonio Humane Society (SAHS). After assessing his injuries, our medical team fortunately determined that Carrey's leg could be saved.
"The X-rays showed that the leg was broken pretty cleanly instead of being shattered, so Carrey was lucky because we were able to repair his fracture rather than choosing to amputate," SAHS Associate Veterinarian Dr. Traci Gilbert explained.
During a specialty orthopedic surgery, veterinarians repaired the broken limb using a bone plate and pin. Furthermore, laser therapy was utilized to reduce inflammation, swelling, and pain, and to promote blood flow and quicker healing to the surgery site.
While Carrey's surgery was a success, the recovery process for a rambunctious kitten was a bit difficult. For about eight weeks, he was sent to a loving foster home, where he was prevented from running and jumping like a kitten typically would. He was also on strict cage rest for his bone to properly set before he could go back to normal activities. However, during this time, his foster mom made sure he was spoiled with extra cuddles, playtime and treats.

Today, Carrey is back at the shelter completely healed and ready to find his PURR-fect home. He is very loving, sweet and playful. If you would like to adopt Carrey, you can visit him today!