Do you have room in your heart for Sky? She is a gorgeous 2-year-old beauty full of personality! She is a happy girl, who just lo-o-o-o-ves people. She's the ultimate proof that Pit Bull Terriers can be among the best-natured dogs one can imagine. She's got that horizon-wide "pibbie" smile, alert amber eyes, and a soft silver-beige coat. Plus, she knows how to "sit." She's easy to walk and loves treats! Once you meet her, we just know you'll fall in love.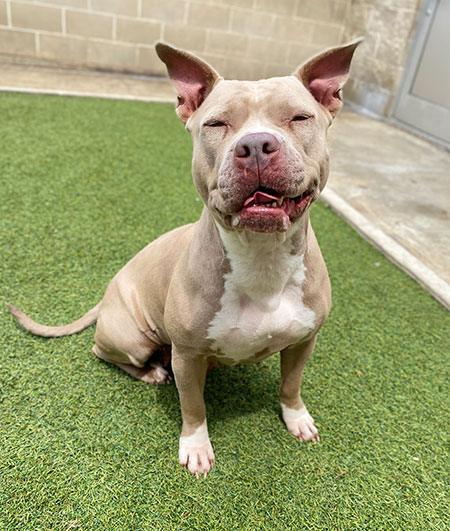 Sky recently had a couple of tumors removed and is now doing great and healing. Potential adopters should be aware that there is a very small chance a tumor could regrow. She is also Heartworm positive, but don't let this discourage you from adopting this sweet girl as she can continue her treatment in her new home. She's ready to be your most loving and loyal companion. Our adoption team will go over all her medical details prior to adoption.
Sky hopes to find her FURever family soon. This special girl loves to explore and play with tennis balls all day long. If you welcome her into your family, she'll also be your lifelong cuddle buddy! Visit her today!