Christmas season is upon us! Sharing the holiday season with your furry pets means thinking about some important safety tips to keep them safe for Santa!
Former SAHS Chief Veterinarian, Dr. Courtney H. Bridgeman, offers tips on how to keep your pets safe and sound this Holiday season.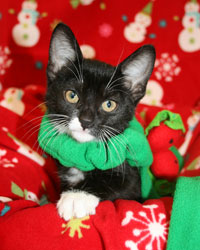 1. Please review all Thanksgiving meal tips and keep them in mind when preparing for the second seasonary feast! (ie, no bones, alcohol or chocolate!)

2. Keep In mind that there are certain plants, like poinsettias, that are seasonal and may pose a poison threat to small dogs and cats. Keep these out of reach of small furry pets during the entire season.

3. Ribbons and tinsel are a major part of the holiday but can pose choking hazard for kittens and cats that find them irresistible! If you have kitties loose in your house, consider using only prefabricated bows on presents and hanging lights and ornaments instead of tinsel on trees!

4. Remember that though people mostly respect the "no peaking" rule for presents under the tree, fido has never heard this rule and can find them irresistible packages of destruction! Breakable or valuable presents should be kept safely hidden away until Christmas morning. Presents that present a choking hazard for little kids could also pose the same threat to a dog who chews into them before Christmas. A better idea is to set the tree up in an area that Fido cannot access when unsupervised!

5. Lights: We all love the twinkle of Christmas lights but electrical cords plugged into low outlets or wrapped low in a tree can pose an electrocution risk to kitties and puppies who might find them irresistible to chew on. Plug lights in to higher outlets or behind furniture that your pets can't squeeze behind. Similarly, your pet, like your children, may never have been introduced to flame, so burning candles should NEVER be left alone with pets whether someone is in the house or not.

6. One last honorable mention: New Years fireworks. These loud obnoxious human fun can be very scary and stressful for pets who have not been exposed. Place dogs in secure quieter surroundings like bedrooms, utility rooms, or garages during nights where high firework activity is expected. Even a yard with a high privacy fence may not be enough to contain a terrified lab! Take extra precautions by playing soft music to help drown out the noise. If Fido or Fluffy is in with the family watching the ball come down. Try not to pay special attention to their anxious antics as this will only show them there is cause for concern. Instead, remain calm and unconcerned yourself and let your pet take their cue from your easy behavior. Remember, though, that your cheers as the ball drops may not be seen as happy to them! Best bet is to find your pets a quiet room of their own where they can be safely away from all the noise! If you have concerns about your pets anxiety prior to this night, please visit your local veterinarian for consult.
Here's hoping that Santa finds everyone happy and healthy this holiday season!