We hope you can join us on October 1st for Friends for Life 2020! We're bringing the party to you! Our biggest fundraiser of the year has gone virtual. Your participation will not cost you a penny; however, you will be given several opportunities to provide financial support. Every dollar raised for this event will go directly back to saving homeless pets who have nowhere else to turn.
Click Here to Register for Friends for Life 2020 (It's FREE)!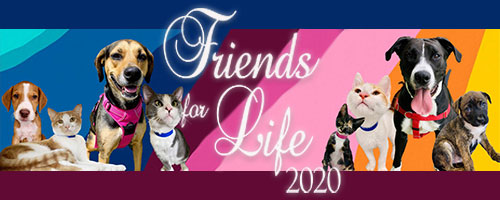 There's nothing quite like coming together to celebrate, especially when puppies and kittens are involved! Every year, we look forward to personally greeting and interacting with hundreds of our most loyal and generous pet-loving supporters at our annual Friends for Life Luncheon. It's a one-of-a-kind day for us to really stop and celebrate the lifesaving work of the San Antonio Humane Society, together with the people who help make it happen.
This year, things are going to have to look a little bit different. We can't get together in person, but that is not going to stop us from partying!
Help us put a little love back into this crazy year by rescuing more dogs and cats in need. Your support will make it possible for us to save the lives of pets that have nowhere else to turn.
---
Become a Sponsor
Click here to sign up to become a sponsor for Friends for Life 2020!

Download the sponsor levels (PDF)

---
Pass the leash
Join the Pass the Leash Challenge in support of the dogs and cats of the San Antonio Humane Society!
To participate, check out our sample below and send us your own video clip:
- Have a friend film you, or film yourself
- Film in portrait mode
- Clip should be no longer than 8-10 seconds
- Take the leash from YOUR left
- Pass to YOUR right
- Feel free to get creative - we can't wait to see all of your adorable dogs and cats!
Email your completed video to development@SAhumane.org by September 15 - and please include both your name and the name of your pet!