Fido Olympics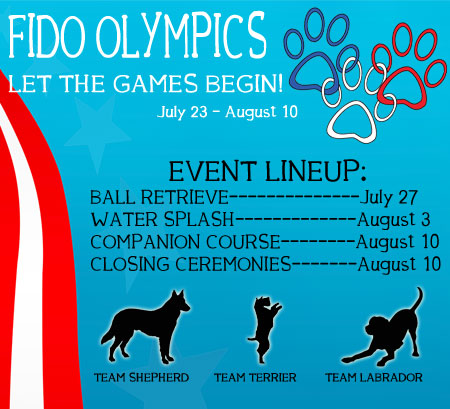 View photos and video from our events!

Ball Retrieve - Water Splash - Companion Course

Think London is the only place you'll see star athletes compete this Olympic season? Well think again! The San Antonio Humane Society is hosting the Fido Olympics;  three weeks of competitive athletic challenges to determine which team will take home the ultimate prize, the Golden Biscuit!

After three exciting weeks of competition, we are proud to award Team Labrador with the all-around, ultimate golden biscuit! Team Terrier took home the all-around silver biscuit, and Team Shepherd rounded out the event with all-around bronze. Thank you to all of our wonderful doggie competitors and cat coaches, and of course, our dedicated SAHS volunteers!