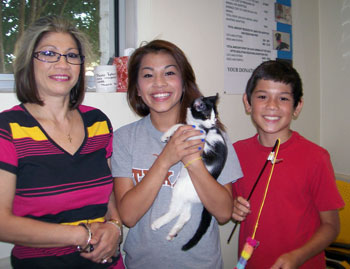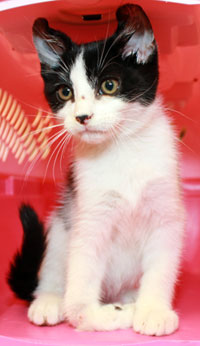 With kitty season well underway, we are seeing many cats and kittens enter our shelter. One of our newest little cats to come in is Hope, a 2 month old female, American Curl mix. When you first look at Hope, all you may see is her sweet eyes and unusual ears that curl at the tips to make for a quite adorable face; however, look at little harder and you'll notice her injured front leg that makes it difficult for Hope to move around. At just 2 months of age, Hope is already in need of a surgery to amputate her leg and allow for her to live the most normal life possible.

Thankfully, we've had one of our long-time Guardian Angels, Dr. Michael Palladino, step forward and offer to fund Hope's surgery. Dr. Palladino previously funded the amputation surgery for another young cat, Ernest, who he ended up adopting last November (read their success story here!). We are so grateful for his generosity and know that Hope will now be able to make a great companion for a loving family.

Though Hope physically struggles with her leg, her personality outshines any disability. She remains very active and playful, especially when there is a kitty toy in the vicinity. Hope is also an atypical kitten in the fact that she loves to have her belly and chin rubbed and she purrs as loud as any cat five times her size.

Stay tuned for an update on our little cat, Hope, and remember that June is adopt a shelter cat month, so come visit all our cats in need of permanent, loving homes!

Update - June 25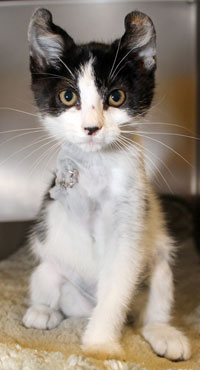 This morning, Dr. Michael Palladino, the guardian angel who made a generous donation to pay for Hope's surgery, stopped by the shelter to wish Hope good luck before she made her first trip out to the kitty cottage. Dr. Palladino was so impressed with how well Hope moved around and was pleased to hear how loudly she purred in his company. He said, "there's something about these wounded warriors, they've been drawn to my attention" and then spoke of what an inspiration Hope and his own 3-legged cat, Ernest, are to him. Because of Dr. Palladino and our wonderful clinic and surgery staff, we know Hope will make a wonderful, life-long companion for one lucky family. Hope is now available for adoption and ready to meet all of our shelter visitors!

Update - June 14
Our little cat, Hope, has been doing well since her surgery and seems just as sweet and content as always. Hope will need to recuperate for approximately 10 days before she will be ready for adoption. We'll keep you updated on Hope's happenings and will let you know when you can come visit her and maybe even take her home! Stay tuned!