Lilah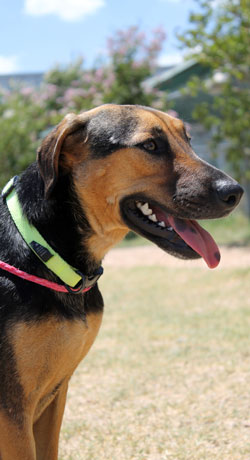 At the San Antonio Humane Society, we love our shelter environment and work tirelessly to make sure our animals are happy, healthy, and ready to find their families; however, for some animals, coming into the shelter is a new and intimidating experience. With unfamiliar faces, new beds, new food, and tons of other pets, it's no wonder why some animals are timid and unsure. For most of our shelter animals, they adjust quickly to their temporary homes when they realize how many people here want to care for them, love them, and help them find their new home. For a few though, they never quite adjust to shelter life. When we see pets that are unhappy with their lives at the shelter, we do everything we can to help them.

In the summer of 2011, a dog named Lilah came into our shelter from a San Antonio Great Dane Rescue foster family with the hope that she would be able to find her new home here at the SAHS. However, after our staff and volunteers spent many days with her trying to make her feel comfortable, we realized that while this may be our home away from home, it was not that for Lilah. Our main goal here at the SAHS is to save lives and to place animals into loving homes, but when we are unable to do that on our own, we look to other rescue groups to help us accomplish our mission in placing every adoptable pet. Several months later, after speaking with SA Great Dane Rescue, we realized that Lilah was much happier in her foster home and we all felt that was where she needed to be, back with the family that made her content. Even though our shelter wasn't the place for her, we are so fortunate to have our shelter relationships and a network of San Antonio foster families to help pets with all sorts of special needs.

For 2012, we hope to see our foster program grow so that we are able to help more animals like Lilah learn how to be happy and confident companion pets.

If you are interested in being a foster family, please visit our foster page to learn more. We are ALWAYS in need of loving foster families to help us care for animals in need.

Together we can help connect more homeless pets with their families.