Toby & Trooper
San Antonio Humane Society Medical Rescue Stories

Meet Toby and Trooper; they were both young, scared, and injured when they came into our care. To someone else, they were just strays who shouldn't have lived, but to us they were two pets that deserved a chance for friendship, family, love, and most importantly, life. Today we are proud to look at both Toby and Trooper as two amazing survivors. And, despite everything they have endured, physically and mentally, these dogs are nothing but gracious and loving towards people.


Toby was only 4 months old when he was found on the access road of a major freeway. He was scared and risking his life to try and escape from the traffic. To make matters more difficult, he could barely walk because his leg was severely injured and he was in significant pain. Finally, someone took compassion on him, picked him up, and brought him to the shelter to receive immediate medical attention. Our team examined him and cared for him to the extent of our capabilities, but he needed more help than we could give. In Toby's time of desperation, we sought help from the South Texas Veterinary Specialists. After seeing Toby, they graciously donated their services and supplies to ensure Toby received the care he needed. They operated right away, placing a plate and screws in Toby's right leg to help him walk and one day make a full recovery. Toby then returned to the San Antonio Humane Society where he spent 6 weeks resting so his leg could heal and begin to grow strong once more.

Trooper was only 1 ½ years old when he was brought to us by the Balcones Heights Police Department. We first suspected Trooper had been hit by a car or thrown from a moving vehicle and was suffering from head trauma and two broken legs. We knew we were unable to do the treatment he required here, so we sent him out for a second opinion with the possibility of surgery. The specialty hospital regretfully informed us that, though his legs were not broken, he suffered from a condition called "Carpal hyperextension" in both legs. Hyperextension is hard enough to treat and maintain in one leg with surgery, let alone two. They were afraid the surgeries would be unsuccessful. Our staff, however, had already fallen in love with him and knew that success was the only option. Trooper wanted to live and was willing to work hard to get it! His indomitable spirit led us to another alternative. Splints were made for his little legs. He will have to wear these splints for the rest of his life as his ligaments will never be able to bear his full weight; but, what his body cannot do, his splints make possible. Trooper doesn't know he's "broken", but instead sports his new leg gear like it's the latest in foot fashion.
Read Troopers Full Story!

Today, both of these dogs are in need of extra special homes. They have come so far, learned so much, and are more than ready to meet their forever families. We gave Toby and Trooper a second chance at life, so you could give them a second chance at friendship, family, and love. Adopt today and you'll get more than a pet, you'll get a friend for life who wants nothing more than to love you forever as long as your promise to love him in return.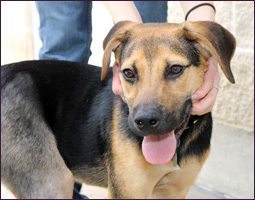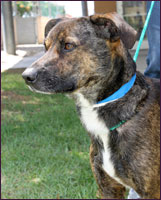 Toby and Trooper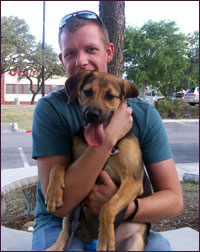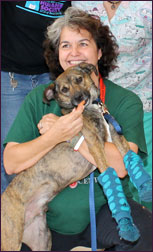 Toby with his new family Trooper with his new family