Houston Puppy Mill Seizure (2011)
Texas Humane Legislation
We are pleased to share wonderful news from our capital; the "Puppy Mill Bill" has been passed! Because of this bill, many beautiful animals like Molly and our other puppy mill rescue dogs will finally get the humane treatment they deserve. We believe this legislation is just the beginning and look forward to the day when no animal is treated unjustly. The San Antonio Humane Society is a proud supporter of the Texas Humane Legislation Network. Read more about the bill and what it means for Texas high volume breeders here.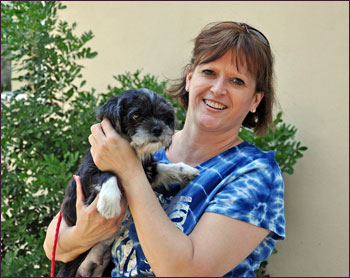 Molly (adopted) with her new family

Update: June 20 - Molly and her puppies are soon ready for new adventures!



Tuesday, June 7 - Molly and her now 4 week old puppies are doing great!
The pups are 4 weeks old and eating moist food along with nursing from mom. Molly is doing well, she is house broken now, loves to go outside and investigate new things, feels more comfortable outside of her kennel by walking a little further in the house each day and lets the foster mom pet her.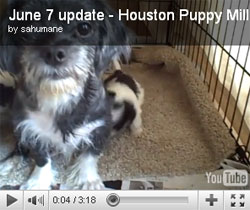 Tuesday, May 31
Molly is doing good with her puppies in their foster home. As you can see on the video, the puppies are starting to move around more and Molly feels safer by the day.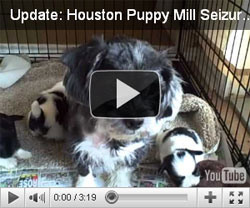 Tuesday, May 24
As for the Houston dogs we helped rescue from a puppy mill, they have greatly improved in the short time they've been here. In fact, we've already adopted 4 Houston rescue dogs out to new loving homes. Our rescued mommies and puppies are settling into their foster homes where they are beginning to adjust to their new lives. The moms are learning to open up to their caregivers and are beginning to trust our fosters more each day with their new born pups. One foster family was pleased to report back how great her mom and pups are doing and how much they enjoy playing in the grass, hearing and seeing birds, and how excited they all are to have human companionship.
We are still looking for a few patient and caring foster families to help some Boston Terriers and Shih Tzus that are still struggling with manage. If you're interested, please fill out the foster application (see foster page) or email foster@SAhumane.org.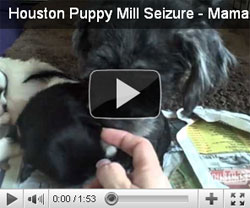 Friday, May 20
Waller County Rescues
Last night the San Antonio Humane Society traveled to Houston to transfer dogs from the Houston SPCA after a large-scale dog breeding operation rescue in Waller County. Over 200 dogs were rescued and the SAHS returned with 24 new additions to our shelter. The dogs rescued were all small breeds, including Shih Tzus, Boston Terriers, Dachshunds, and other mixed-breeds.


This morning our staff and volunteers are medically assessing and bathing each dog. We expect most of our rescues will have internal and/or external parasites, moderate to severe skin conditions, and other health problems as a result from their previous poor living conditions. Some of these dogs will be ready for adoption but some will need to go immediately to foster care. We have a variety of ages and breeds. Thanks to all staff, SAHS volunteers, and fosters who are stepping up to help make sure these dogs have a new beginning. View Houston SPCA Seizure video.