Lending a Helping Hand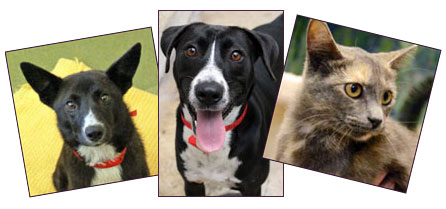 San Antonio Humane Society to take 19 Louisiana Animal Flood Victims
View the Louisiana Flood Rescue Animals
Press Release Louisiana Flood Victims May 18
Tuesday, May 24
So far, out of the Louisiana flood victims, 4 wonderful dogs and 3 great cats have been adopted. Those Louisiana animals that are still with us at the shelter are doing well and ready for their new forever homes. Over the past week as we've gotten to know these animals better, we've been so pleased to see how friendly they all are, especially our larger dogs. Sometimes they may get overlooked for their size, but please remember, these big dogs have big hearts too.

Thursday, May 19
After an early breakfast and nap, our new occupants from Louisiana settled into their adoption kennels so the public could meet them. Staff and volunteers are enjoying these "Cajun" additions and are amazed by their ability to adjust to new surroundings. Their special adoption fee includes the everyday package that we offer for all of the SAHS dogs and cats here at the shelter. Come out and support the SAHS by adopting a shelter pet or donating to the Help a Friend Fund so we may continue to help these flood victims.



Wednesday, May 18
The San Antonio Humane Society added 19 Louisiana animal flood victims, 15 dogs and 4 cats, to our shelter community last night. The Louisiana SPCA and Houston SPCA called upon the SAHS to help with animal overcrowding after the Morganza Spillway was opened.

Early this morning, SAHS staff and volunteers began bathing and medically assessing each animal. Our new animal friends are happy, excited, and adjusting well to their temporary homes. The Louisiana cats are together in one of our Kitty Cottage sun rooms and the dogs have been playing and greeting SAHS staff and volunteers as they arrive.

Most of the animals will be up for adoption today at noon and the rest will continue to be treated until they are ready for adoption. All animals are receiving their vaccinations, de-wormer, and flea prevention. Before or upon adoption, all of the Louisiana animals will also be spayed/neutered. Special adoption prices for "Louisiana flood canines" will be $50 and "Louisiana flood felines" will be $30. Please give special consideration to the 6 Louisiana dogs found heartworm positive; they will up for adoption with special adoption requirements.


Tuesday, May 17
The San Antonio Humane Society will be adding "out of town" canines and felines to our shelter community tonight. This afternoon, the SAHS traveled to Houston where it met with the Louisiana SPCA to pick up to 20 animals that have been relocated due to the recent flooding in the South. The animals will return to the SAHS late this evening where they will be given new "temporary" homes until they are ready to be adopted. Volunteers and staff look forward to welcoming these animals and making them comfortable after several days of long travel. After a night of much needed rest for both animals and staff, comprehensive medical assessments will begin in the morning.

Since most of the animals joining our home at the shelter are heartworm positive, we ask that you open your hearts and donate to our Help a Friend Fund for heartworm positive dogs. Lend a hand to our new friends in other ways too, like volunteering or offering general donations to aid in covering additional expenses. With your help, we can get these animals healthy and into the new forever homes they need and desire.

During times of distress, it is our strong partnerships with shelters from around the country that allow us to rescue and provide care for as many animals as possible, and today we are grateful to be in a position to provide aid and compassion.