Sweet Lola Overcoming Leg Injury – ADOPTED!
Lola – ADOPTED!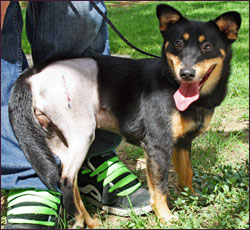 When Lola was brought to the San Antonio Humane Society, she could not put down her right hind leg. A quiet, tan-and-black Shiba Inu mix who was picked up as a stray, Lola had probably been hit by a car.
But this young small-to-medium sized gal (25 to 30 pounds) hasn't let her injury affect her attitude.
"She is a fantastic dog, very friendly and social and very smart," says Clinic Supervisor Sara Phippen.
Since she arrived at the SAHS in late July, Lola has undergone two procedures – a femoral head ostectomy and a bone spur correction – at an outside clinic with the needed X-ray machine. Now, Lola is starting physical therapy, a regimen of ice and heat placed on her injured leg, along with practice walking on it.
As soon as she starts putting down the hurt leg on her own, Lola will be available for adoption. She is estimated to be 8 months to a year old.
"She's very docile," Phippen says. "I think she would be fantastic with kids. She's just so nice."

Lola has been in a foster home where she got physical therapy daily for her leg.

November 15th: Lola was adopted!