Michaels Medical Rescue Fund - Past Cases
Zeus - Adopted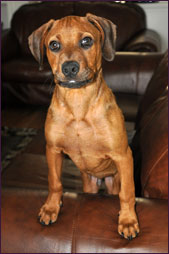 Meet Zeus, our resident superstar! Even though Zeus is a still a young pup, he has already had quite a history here at the shelter. When we first met Zeus, he was just a tiny puppy, struggling with ringworm and an infection. One of our staff members came to his rescue, fostering him, helping him heal, and teaching him all about what it means to be a puppy. He became a regular visitor to the shelter where he was always seen greeting our staff with a wagging tail and excited pounce. Needless to say, everyone became quite taken with him and spoiled him, just as much as every adorable puppy deserves.
Read Zeus full story and watch his video!

Chaplin - Adopted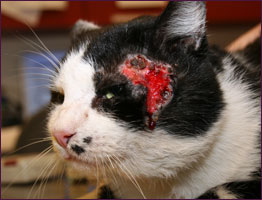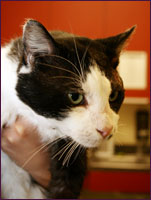 Chaplin came into the SAHS with a probable dog bite to his face. Fortunately he was found and received into the shelter before he was in too much pain to be unable to eat and survive on the streets. Our Veterinarian, Dr. Hurst, examined Chaplin and found him to have a large abscess under his jaw and open wound on the upper part of his face. Chaplin was a trooper through his examination and continues to show the staff what a great survivor he is.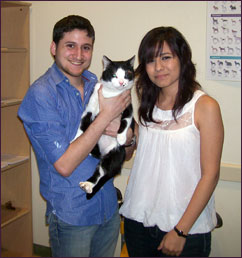 Chaplin with his new owners!

Moppet - Adopted
Before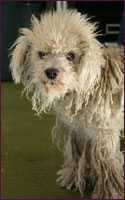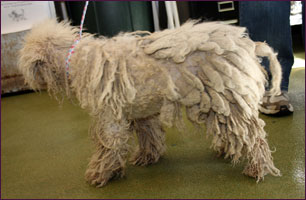 Moppet - the SAHS receives in animals that may need help with everyday care. Moppet is 5 yr old poodle mix found by a good Samaritan and brought into the SAHS as a stray. If she is not claimed by her owner in 3 days (written December 14), she will be up for adoption. She will be spayed, vaccinated, and receive a bath and much needed grooming.

After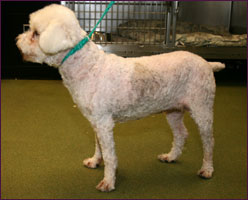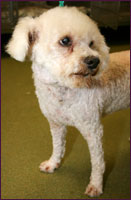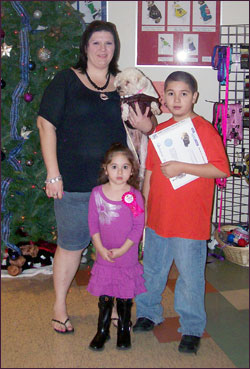 Moppet with her new family!

Winston - Adopted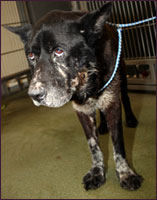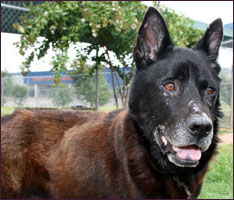 READ MORE about Winston!

Tiny Oliver - Adopted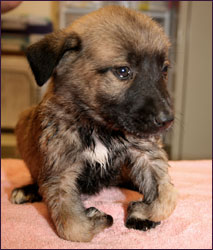 When he was found near Saint Mary Magdalen Church, the 3-pound puppy could hardly take a step without falling back down. Because of poor nutrition, Oliver's little legs were too weak to support him.
See Oliver's video and read his full story!

Sweet Lola Overcoming Leg Injury – Adopted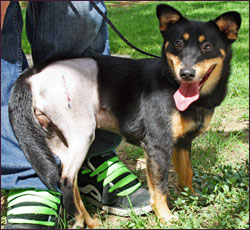 When Lola was brought to the San Antonio Humane Society, she could not put down her right hind leg. A quiet, tan-and-black Shiba Inu mix who was picked up as a stray, Lola had probably been hit by a car. But this young small-to-medium sized gal (25 to 30 pounds) hasn't let her injury affect her attitude.
"She is a fantastic dog, very friendly and social and very smart," says Clinic Supervisor Sara Phippen.
Read more about Lola and see her video!

Adorable Poodle-Mix Puppy Recovering Nicely! (Adopted)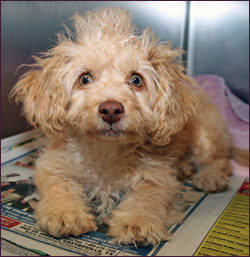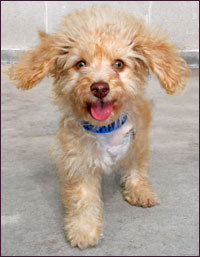 At less than 5 pounds, Church can practically fit in your hand. A cute little curly-haired Poodle-mix puppy - just 2 months old - Church has had to endure a lot in his short life. Found on October 8 near Bandera Road and Loop 1604, this apricot-colored stray was brought into the San Antonio Humane Society with a severely broken bone in his front left leg. It is unknown how he was injured; perhaps he was stepped on accidentally. So serious was the damage, Church had to have the leg amputated.

During his operation, SAHS staff veterinarian Dr. Courtney Hurst Bridgeman utilized a newly donated machine called an electrosurgery machine, or electrocautery unit. The machine, donated by a couple with an interest in animal rescue, is designed to minimize blood loss by cauterizing small blood vessels in muscle. "The addition of this machine to our surgical suite will help keep our patients comfortable and happy, and will help minimize complications in both routine and unusual surgeries," says Dr. Hurst Bridgeman.

Now, Church is recovering well from his surgery. On October 20, his stitches were removed - and he is officially available for adoption!

"He is just as happy and lively as he was before his surgery," says Clinic Supervisor Sara Phippen. "Church is quite the charmer! He is very sweet and loves to cuddle. And he is very quiet for a puppy!"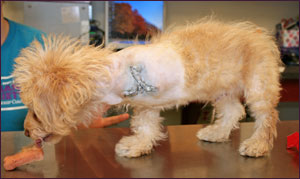 Tawny - Adopted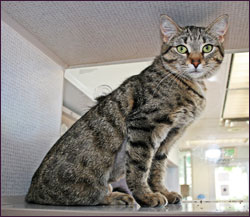 One of the hardest parts of our job is having to see animals in serious distress and in need of clinical help. Unfortunately, we see stray dogs and cats on a daily basis that need advanced medical attention. A while ago we rescued a 1 ½ year old cat we named Tawny who needed more than just a little love and care. Tawny had two mass tumors that had to be removed if she were to have any hope at living out a normal and healthy life... Read Tawny's full story!

Serphyna - Adopted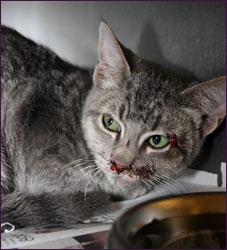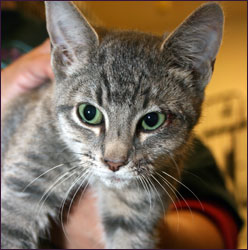 Serphyna is a Lucky kitty, you may not think that after reading her story but because of a caring family she is alive, happy and healthy. Serphyna was not so lucky on Dec 7th, when a family witnessed her being thrown out of car with her 4 sisters and brothers. Unfortunately, her siblings did not survive this cruelty. She needed immediate medical care that any abused, neglected, or injured animal would receive by our staff. After receiving an examination, fluids, and other treatment by our veterinarian, she was watched closely for any signs of distress including brain or nerve damage through the coming days.

Today, Serphyna is a Lucky 4 month old kitty. You would imagine that she would be unsure about people, but she is quite the opposite. She is sweet, gentle, and trusting.
She needs a new family that will treat her with the respect that any animal deserves. Come out to the SA Humane Society, visit her and prepare to fall in love. If she's adopted take a look at our other cats and kittens.




Cambells - Adopted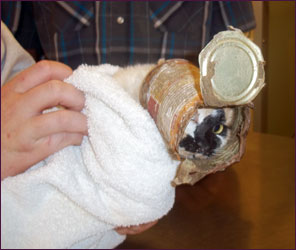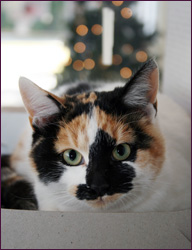 One BAD DAY - There are so many ways an animal can get hurt or in trouble without someone taking care of them. Fortunately someone saw this kitty and was able to bring her into the SAHS. Cambells, appropriately named, was able to eat and see again after the tin can was removed by our clinic staff. Cambells is available for adoption and promises never to get into any other mischief again!!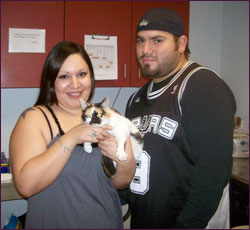 Cambells with her new owners!

Tiny Cormic (adopted) Can't See Much—But He Can Play And He Can Purr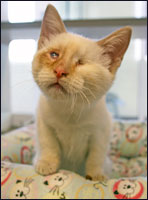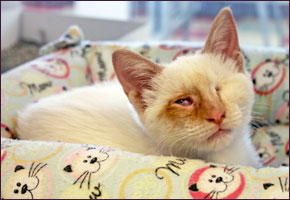 Cormic is as rambunctious as any other kitten—only this little guy is nearly blind.
Transferred in from a veterinary clinic, this mostly white Siamese-mix had his left eye removed before he arrived at the San Antonio Humane Society. His right eye is smaller than normal and can see only shadows. Nevertheless, he is sweet, cuddly and playful. "He acts like any other kitty," says Clinic Supervisor Sara Phippen. "He just can't see very well."
Cormic's limited vision doesn't slow down this frisky fellow. "He likes to sit on my shoulder and attack my hair," animal health technician Marina Maldonado says with a laugh.

Cormic arrived at the SAHS on September 22, when he was about 8 weeks old. He then stayed in the SAHS's clinic for two weeks, while an ulcer in his right eye was treated with eye drops. As soon as it healed and he'd reached 2 pounds in weight, Cormic was put up for adoption. Four days later, on October 11, he was adopted! "We love him and he's running around the house with his tail up—feisty and right at home," his new owner wrote on Facebook hours later.


Domico
Gentle Kitty Treated for Puncture Wounds—Now Up for Adoption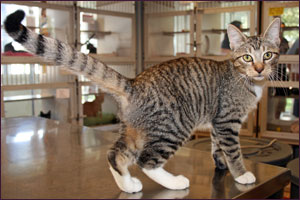 Domico is an enchanting kitten with gray tiger stripes and golden eyes. But what the San Antonio Humane Society clinic staff first noticed about him was his condition: He had two gaping puncture wounds in his belly. Most likely from bites, Domico's wounds were treated with antibiotics as he recovered in the SAHS's clinic; one wound required suturing. This once-stray 5-month-old is now on the mend and available for adoption. Despite the experiences that led to his injuries, Domico enjoys nothing more than nuzzling and being petted. "He loves to be held and cuddled and will instantly purr when being held," says Clinic Supervisor Sara Phippen. "He has been an easy patient to care for as well."


Maya - Adopted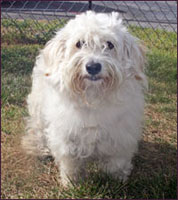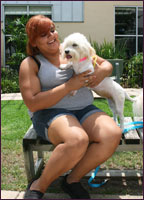 Maya came into the shelter with much needed attention because of her matted coat and received the proper care.
Read More about Maya!

Paco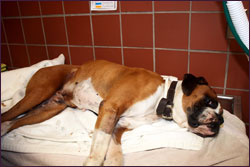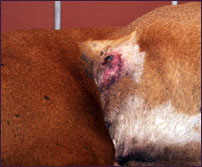 Recently, the San Antonio Humane Society received an adult Boxer with a gunshot wound to his abdomen. To determine the severity of his injury, he was rushed into surgery at the shelter. His owner stated that this was the 2nd time one of his dogs had been shot in Medina County; his previous dog did pass away as a result.
The Boxer, who was Heartworm Positive, came out of surgery in critical condition and it was concluded that the bullet damaged his lower intestine in 3 places. Unfortunately, he did not survive through the night.

Durango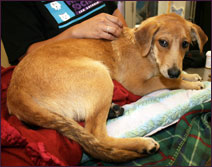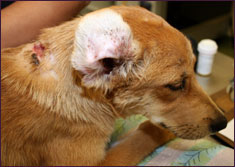 On July 23, Durango, a 4 month old Shepherd mix was found with a large puncture wound on his back and front of his throat. He was examined by our staff and it is unknown what caused his injuries. Durango has received the proper care for his wounds and will be available for adoption once fully healed.

Plaid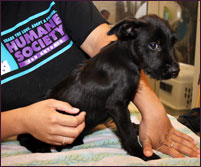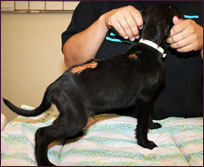 On July 23, a scared 2 month old Scottish Terrier mix puppy named Plaid was brought to the shelter by a woman who witnessed him getting hit by a car. He did suffer from road rash burns on along his back and neck and will be receiving treatment throughout his stay at the shelter.

Frank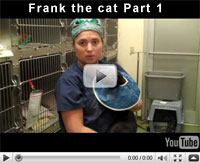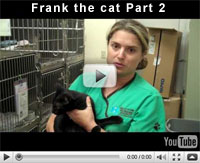 Watch the videos about Frank.

Have a look at some of the animals this fund has saved...

Freckles



Freckles is an Australian Cattle dog mix. It was found that this cute pup has had a previous shoulder injury which had caused radial nerve damage to the lower leg. This injury could have been caused by pulling on the leg, picking him up by the leg only, or being hit by a car. Unfortunately, Freckles had to have his leg amputated. He will be rehabilitated after surgery (as you can see on the video he's doing great) by the SAHS staff and then put up for adoption.
Check out the story of Freckles!

Skelly
Skelly came in on November 6th pretty malnurished and in need of some TLC. She has put some weight on, is doing much better and is now up for adoption. Sweet Skelly would like you to know that she is looking for a good home with a caring family who will cherish her love!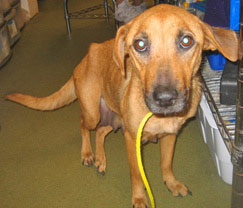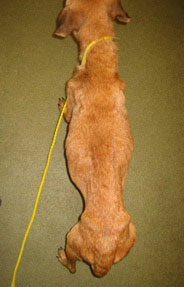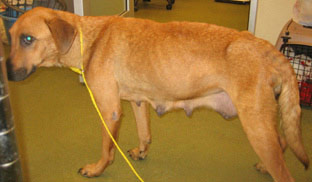 - December -
It has been almost 2 months now since Skelly first joined us at the shelter. As you can see, she has put on much needed weight and is a doll to be around. We all love her and hope she meets her new family soon!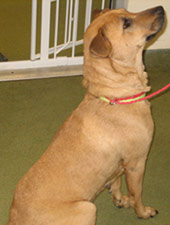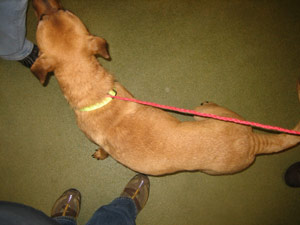 - January -
Skelly was adopted! She now has a wonderful family who offers her the love she deserves!
Click here to read Skelly's Success Story!

Rash of Strays Hit By Cars
August 15th was a busy day at the Humane Society. There were several injured animals that were rushed in needing emergency care.
Read the press release by clicking here.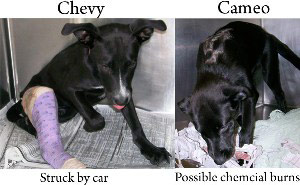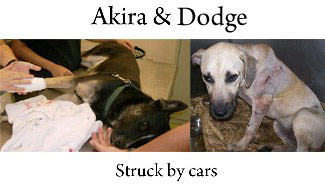 All of these dogs have been adopted by loving families!

Cats Burned in Blaze
Click here to read our press release on the two cats who survived a recent apartment fire.