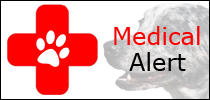 The Humane Society receives in many injured dogs and cats throughout the year and with the help of the Bill Michaels Medical Rescue Fund, we are able to help these animals receive the care they need before finding their new homes. The Medical Alert page was created as an extension of this fund to highlight a particular animal through its journey up until adoption. We hope to educate the public with videos, photographs and information.
Help us help Bo and animals like him.
Bo came to the Humane Society as a stray with a leg injury. Due to his energy and loving personality, he will make a great companion for a family in the New Year. His leg injury keeps him in pain but with his much needed surgery planned, he will be able to run, walk, and play with out pain or discomfort. Please help Bo become pain free in the New Year and help us celebrate his differences with us by donating to help start Bo's new life.

Donate Now!
If we get more funds than the cost for Bo's treatment the money will stay in Bill Michaels Medical Rescue fund to help others like him.




If you would like to continue to help an animal in need, click here.