Please donate to Michaels Medical Rescue Fund to help other animals in need.

At the San Antonio Humane Society, we make every effort to find the best home for the pets in our care. Sadly, many of the dogs and cats that come to us have been abused, neglected, injured or have chronic illnesses. These injured or ill animals are treated based on the funds available at the time of intake or illness. Through the Michaels Medical Rescue Fund, you can choose to make a contribution to a special needs animal. This will decrease the costs associated with the provision of necessary medical care they need and deserve. Once these animals are healthy, they will then be available to the public for adoption. We appreciate any contribution offered.
Winter (Summer 2018)
Winter was brought to the San Antonio Humane Society by a good Samaritan who found him injured and limping. Likely caused by a car accident, Winter's right front leg suffered terrible nerve damage, was necrotic, and had to be removed. Because the leg removed was a weight-bearing leg, he may have a more difficult time adjusting as his remaining front leg will be placed under more stress. A donor has generously sponsored his adoption fee, which means adopters are able to take him home without paying a fee. We do believe Winter may be deaf, and recommend his adopters seek out and establish a relationship with a veterinarian to confirm. Despite his difficulties, he's a sweet bud with a docile heart. Because of his deafness, adopters should take great care not to startle or surprise him. Although he is heartworm positive, adopters are able to take advantage of FREE heartworm treatment at local VCA Animal Hospitals. Winter is a friendly pooch. He may have to take it slow now, but he's eager to be welcomed into a loving home.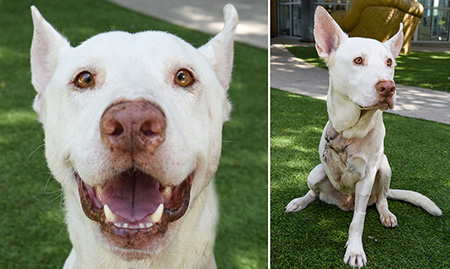 Mr.Kitten (Summer 2018)
It's been five weeks since Mr. Kitten was first brought to us, and his transformation is heartwarming! When he first came to us, Mr. Kitten was flea-ridden and in terrible need of medical attention. It's unknown what caused his eye problems, but to prevent further health risks the decision was made to remove his diseased eye. Although not routine, Mr. Kitten's plight was definitely not unique. We treat many injured and ill animals who have suffered the difficulties of living as a stray in the hopes that they will know the joy of a healthy life with their forever family. Mr. Kitten's sutures have been removed and he is available for adoption today! He loves other friendly felines, enjoys running around (as kittens do) and letting you know when he's hungry.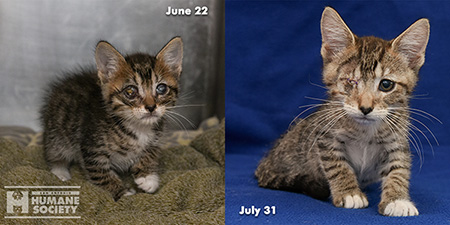 Read More Michaels Medical Rescue Fund Stories
SAHS Utilizes Dog Boots For Puppy With Severely Damaged Paw (Adopted)
Francine, a 4 month old Shepherd mix arrived at the San Antonio Humane Society (SAHS) with her siblings, who were all healthy and ready for adoption. After our staff examined Francine, they noticed that her back left paw was severely damaged. Since she was found as a stray, there was no telling whether trauma occurred or if she was born this way. What was certain, was that due to the minimal paw pad that Francine has, she could not safely walk on concrete, asphalt, dirt, etc. without further damage happening; which could lead to possible infections.

SAHS Chief Veterinarian, Dr. Bridgeman, thought of two options: amputation or utilizing dog boots. Francine's leg is fully functional, so we ordered dog boots, as an alternative to amputation. She is still getting used to wearing her fancy boots but with much practice, Francine shouldn't have any issues. Today is a very big day for this sweet and loving pup, as she available for adoption at the SAHS at noon! Once she is in a home of her own, the boots will not be necessary indoors, though, when outdoors on a daily walk, during playtime, or at a park, her boots need to be worn.





Dog Covered In Motor Oil Abandoned At SAHS

Update - November 18
Diego got adopted by his foster family! Read more!

Update - November 4
Checking In with Diego!!!
Diego is getting more and more unrecognizable from when he first entered the SAHS doors in mid-August! As mentioned previously, his foster family adores this sweet and handsome boy. They said that he is doing fantastic and that he has brought so much joy to their lives. They recently brought him to our 12th annual Paws on the Patio event where he had a photo shoot in front of our Halloween themed set. He was thrilled to be at the event and was definitely ready for his close up! His foster parents mentioned that he loves to go on daily walks in their neighborhood and his favorite toy is a stuffed monkey. Now get this, Diego loves to watch TV and a top show of his is The Fresh Prince of Bel-Air! Since having his eye removed, he has acclimated extremely well around his foster house and we are so happy to see his incredible progress!

Update - September 9
We are so happy to share Diego's update with everyone! In fact, today was quite a big day for him. He had his right eye removed, due to pre-existing ailments, and he received his neuter surgery. Our staff can attest to how sweet Diego is and he is truly as happy as can be. Diego is having a blast in his foster home and his photos show how much he is improving. He is gaining weight, his coat is getting fuller and his smile remains. Diego's foster family absolutely loves him and said that he is feeling much better than when they first picked him up from the SAHS. He is active, smart, funny and is definitely getting spoiled, as he should be! He has learned to stay and sit on command and even has a walking trail in the house that he likes to use to let them know that he has to go potty. What a good boy! We cannot be happier with his progress and are thrilled that he has such a wonderful foster family!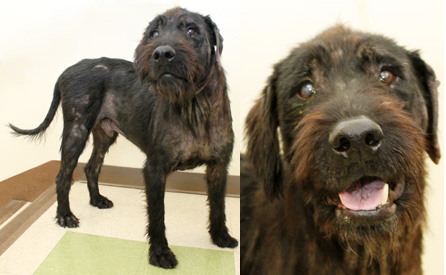 Update - August 22!
We are thrilled to announce that Diego is doing well and has found a foster home. If you would like to help Diego, any monetary donation would be much appreciated. Please visit our donation page and choose Michaels Medical Rescue Fund/Vet Services under the Program Area and say it's for Diego in the comments field. Thank you in advance for your support!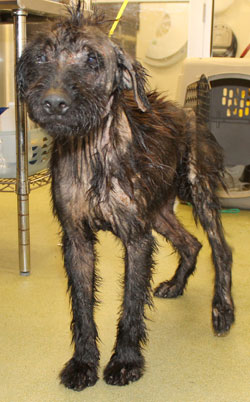 On Friday, August 15, a kindhearted 2 ½ year old Airedale Terrier and Rottweiler mix was found tied to a pole in front of the San Antonio Humane Society. As our staff inched closer to this helpless boy, they noticed that he was completely covered in motor oil. When greeted, Diego, stood right up with his tail wagging and was ready to enter the SAHS. He immediately went into spa mode, receiving numerous baths to remove the motor oil that was drenched all over his coat and skin.

It was then our staff realized that Diego had Sarcoptic Mange. This occurs when mites burrow under the skin and cause excessive itching and scratching, which leads to, in Diego's case, massive amounts of hair loss. While this type of mange is contagious, it is easy to treat when done properly. A common misconception is that dogs who have Sarcoptic Mange can be treated with the use of motor oil, therefore our assumption is that whomever was caring for Diego, thought that this would help him.

Through our amazing foster care program, we are able to treat and save thousands of adoptable pets every year and Diego is a perfect example of an animal in desperate need of a foster home. We are looking for an understanding and patient foster family to care for Diego until he is completely healed and ready for adoption. He absolutely loves people and just needs some time and tender loving care!

As an SAHS foster, one will receive everything needed to care for the foster pet/s, including bedding, blankets, toys, food, litter, medications, etc. As mentioned previously, Diego's Sarcoptic Mange will be easy to treat and all of his necessary medications will be provided. He will need to visit the SAHS every two weeks for a checkup and we will inform the foster family of any and all necessary instructions involved in caring for him. We are certain that fostering Diego will be a fun and rewarding experience, as he loves everyone he meets.

We have a foster for Diego, but if you would like to help others like him by fostering please visit www.SAhumane.org/foster or call 210-226-7461 ext. 120 to speak to our Foster Care Supervisor.
---




SAHS Uses Unique Alternative Therapy On Shelter Pet
At the SAHS, our Chief Veterinarian and staff are often faced with this question: What can we do to better the quality of life for this shelter pet? Whether it's an amputation, eye removal or reconstructive surgery, these are options that are often necessary. However, more recently our Chief Veterinarian, Dr. Bridgeman, has taken a unique approach that is making a comeback in the field of human and animal medicine; applying honey on the shelter pet's wound as an alternative therapy. The honey has anti-bacterial properties and stimulates the body's defenses, therefore, it has been used as a topical ointment. Of course this form of treatment should only be utilized by a veterinarian.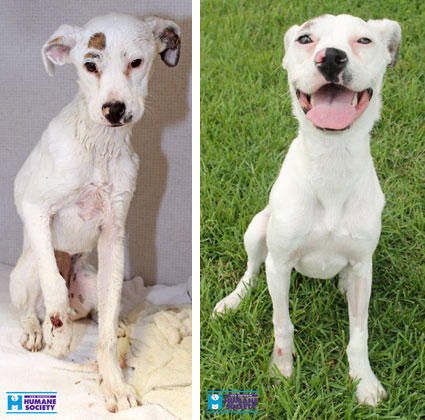 Recently, Sugar, a 1 year old Terrier mix was found as a stray and brought to the SAHS by a good samaritan. When she arrived, she was extremely thin, scared and had wounds on her mouth and front paw that needed attention. After Dr. Bridgeman evaluated Sugar, she decided to administer honey on her wounds as a form of therapy. Sugar's front paw was wrapped and monitored throughout the next week or so and we were thrilled to see how quickly her wounds were healing. Sweet Sugar has made a full recovery, can sit on command and loves running and playing with her favorite doggy pals! She is now available for adoption and is hoping to find her forever family soon!
---
Update April 4: Shimmy just found her new home!!!
SAHS Feline Plans To Shimmy Her Way Into Your Heart!
The San Antonio Humane Society has a very special 3 month old feline resident named Shimmy who was found as a stray in February. She was brought to the shelter with injuries that we speculate may have been the result of getting hit by a car. She was malnourished, suffering from trauma to her head and was experiencing nerve damage in her front right leg, causing her to drag her leg when walking. Her leg has since been amputated and she has adjusted rather well with three legs. She is also slightly nearsighted, partially deaf and the trauma to her head did affect her neurologically, as she displays a constant head bob motion.



What's absolutely great about Shimmy is that she doesn't let anything affect her awesome personality and temperament. She spent about 3 weeks in a foster home where she became friends with another kitty and discovered how much she enjoys playing with anything she can! Shimmy needs an understanding and patient family who will embrace her playful side and keep her as an indoor only kitty. She is litter box trained, eats wet food, likes living with other felines and would appreciate nothing more than to be loved. She can be a talker at times and may not realize her volume but we guarantee that she will keep her family entertained with her stories.


Darla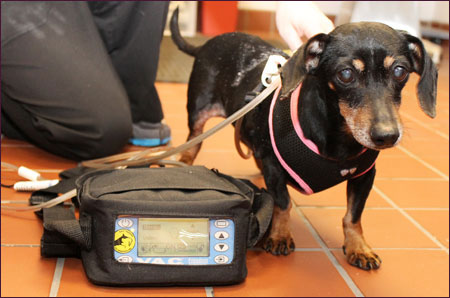 Meet Darla, a 15 year old Miniature Smooth Haired Dachshund transferred to the San Antonio Humane Society from Animal Care Services earlier this year and was experiencing a great deal of pain from a medical issue, very likely due to the fact that she was never spayed. She had several mammary tumors that we removed, however, after her extensive surgery some of the sutures would not stay in place, thereby causing infection. Darla's skin became ulcerated and her wounds were simply not healing properly. But with some generous help and new advances in medical techniques, Darla is now on the road to recovery!

This special girl is now being treated using advanced wound management in the form of a vacuumassisted closure (V.A.C.® Therapy) thanks to KCI® Animal Health who generously supplied us with the equipment and dressings. According to KCI® Animal Health, "By delivering negative pressure (a vacuum) at the wound site through a patented dressing, the wound edges are drawn together, infectious materials are removed and granulation tissue is promoted at the cellular level." Essentially, the KCI V.A.C.® Therapy pumps out wound fluid and bacteria consistently and once full, the bag is replaced. This form of wound management has more often been used on humans; though it is now being used to help heal animals such as Darla.


Dudley - Available for adoption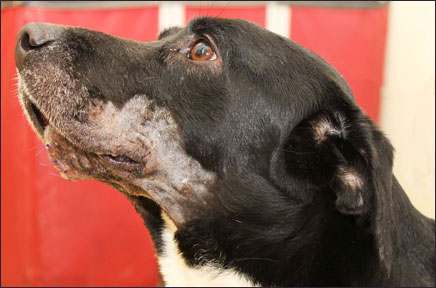 Dudley, a dashing 6 year old Retriever mix, is heartworm positive and was suffering from a broken jaw caused from severe trauma. The SAHS surgical team had Dudley prepped and ready for surgery as quickly as possible. As a result, about a quarter of his lower jaw was removed. With his tail wagging and a delightful personality, he is currently on a wet food diet but with much needed practice and time, he should feel comfortable getting back to a normal dry food diet.

Dublin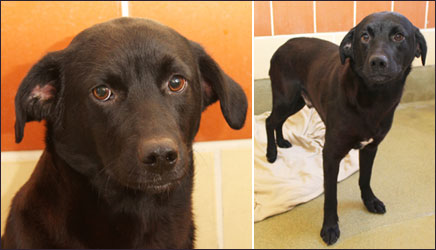 Dublin, Dudley's kennel mate and buddy, is a sweet 1 year old Retriever mix who, from unknown causes, fractured the head of his femur and was having some stability issues with his knee. He recently underwent surgery and seems to be feeling rather well. He is walking around at a slow pace but is adjusting quickly. We are sure that Dublin's kind demeanor will catch the attention of anyone he meets.

Davis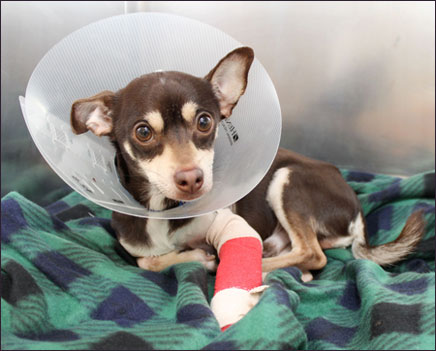 Davis is an absolutely adorable 3 year old Chihuahua mix who has been on cage rest for a pre-existing pelvis fracture and an injured left front elbow. This little guy has been feeling some discomfort and pain but is scheduled to have surgery very soon to help alleviate this as much as possible. After his surgery, we plan on giving Davis plenty of time to heal and adjust.

Gato - Adopted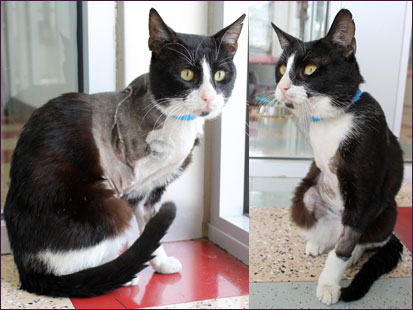 It's been said that it takes a village to raise a child, but what about a cat? In Gato's case, this statement couldn't ring more true. For much of Gato's life, he spent his days being what we call a community cat. You know, the cat that walks with you to the bus stop or is hanging out on your sidewalk while you're tending to your yard. And in doing so, Gato didn't just have one family who cared for him, but many who welcomed him into their lives. It was understood in this community that Gato was their cat; they all fed him and pitched in to take care of him and helped Gato to continue to live the life he was accustomed to. However, everything changed when one of the neighbors saw Gato get hit by a car and before he could get to him to help him Gato had disappeared. A week went by before anyone saw Gato, and when he finally showed up one of the neighbors knew from the looks of him that he was severely injured. Though it hurt the community to part with their cat, they knew that Gato could no longer be on his own. Gato was surrendered to the SAHS and Dr. Bridgeman diagnosed him with a broken leg, an infection, and severe dehydration. Because of the reserved funding in our Michaels Medical Rescue Fund, Gato was able to be taken immediately into surgery to help get him healthy as soon as possible. Just shy of two weeks later, Gato is feeling great and ready to find his new loving family. Though his days of being a rolling stone may be over, we can tell this friendly guy is ready to settle down.


Sesame - Adopted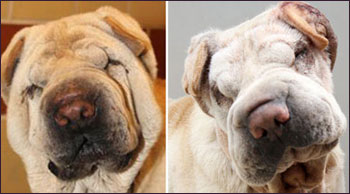 After a couple surgeries, one of special SAHS dogs, Sesame, is finally ready for adoption. Sesame is a 2 year, 7 month old male Chinese Shar-Pei mix who was transferred to the SAHS from Animal Care Services back in February of this year. Because Shar-Pei's are often bred to have many wrinkles, sometimes the extra skin can cause problems with their vision and hearing, though Sesame was an extreme case. When he came to the SAHS, Sesame's eyes were closed from the extra weight on his face. He was also having chronic ear infections because his ears were pushed closed from his many wrinkles. After two surgeries to remove excess skin, Sesame's eyes have opened and he is now able to see shadows and movement and is an all-around much happier pup! Way to go Sesame!


Batman - Adopted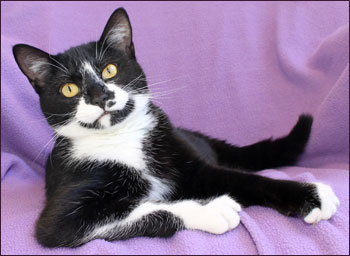 February 5 - It's the moment you've all been waiting for, Batman is now available for adoption! He had a lot of fun while he was hanging around the shelter waiting for his leg to fully heal; he met lots of new friends, traveled to downtown where he was featured on Univision, and really livened up our lives with his playful attitude. But now it's time for Batman to meet his family and venture to his forever home. Visit him today at noon in our kitty cottage, we promise you won't regret any time spent with this wonderful cat!

January 16 - He's Batman! Blending in with the night, pouncing on toys that get in his way, and being a fierce defender of cat nip, this cat lets nothing get in his way! Well almost nothing. Late last December Batman was transferred to the shelter from Animal Care Service and there was just one thing keeping him from soaring through the skies to land on the perfect perch; believe it or not, it was his leg. He came to us with a severely injured knee on his back right leg and after x-rays and physical examinations, our Chief Veterinarian determined that amputation would be in his best interest and provide the surest positive outcome. And boy was she right! Following his surgery, Batman is acting like he's king of the cats! We can tell he is more comfortable, mobile, and overall seems like a more content companion. Thanks to the donations to our Michaels Medical Rescue Fund, we were able to give this cat a second chance at a happy and healthy life. Now the only question left to answer is are you the Robin to this Batman?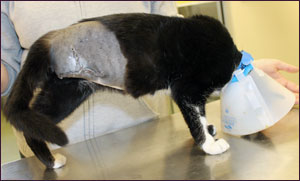 Thor - Adopted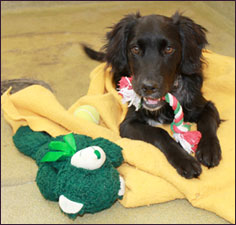 Thor, just like his superhero namesake, is a strong boy who loves people. He was taken in at our receiving facility at Animal Care Services with a wound around his neck from an embedded collar. Currently we are treating Thor with strictly medical management and he is healing well while remaining very active and loving. At 5 months, Thor is already 28 pounds, but still thinks of himself as a lap dog. If you'll sit beside him, he'll do his best to curl into a ball in your arms, or even just lay across your legs in an attempt to be as close to you as possible. He also loves to play and can't have enough toys to keep him entertained: balls, rope toys, stuffed animals, he'll grab them all at once if he can! Though Thor has had a bit of a rough start, he should be ready for adoption in a week or two and we know he will make a very loving companion for one lucky family. View Thor's video.

Hope - Adopted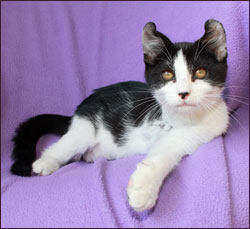 With kitty season well underway, we are seeing many cats and kittens enter our shelter. One of our newest little cats to come in is Hope, a 2 month old female, American Curl mix. When you first look at Hope, all you may see is her sweet eyes and unusual ears that curl at the tips to make for a quite adorable face; however, look at little harder and you'll notice her injured front leg that makes it difficult for Hope to move around. At just 2 months of age, Hope is already in need of a surgery to amputate her leg and allow for her to live the most normal life possible. Read more about Hope here!


Many (pronounced MAH-KNEE) - Adopted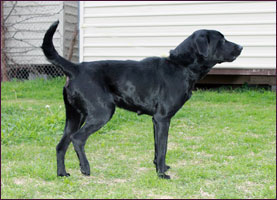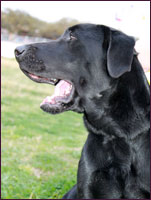 Many must be a Spurs fan because this sweet girl was found outside the AT&T Center. While we think she would have been happy with an autograph, Many is lucky enough to say she was swept off her feet by one of our loved Spurs staff. Many was brought to the shelter where we discovered she had an old leg injury. She is now on 6 weeks of cage rest as we monitor her healing progress. She is sweet, humble, and loving; the perfect pup, and of course, the ultimate Spurs fan.

Isabel - Adopted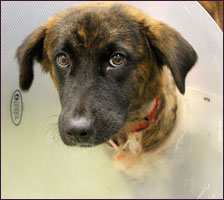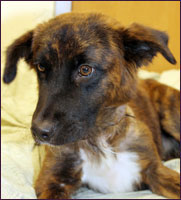 At 8 months old, puppies are usually playing, exploring, learning, and coming into their own as loyal and loving companions to the family that will be theirs forever. However, for Isabel, this typical scenario was far from her reality as an abused puppy living alone as a stray. Isabel was found by a good samaritan and brought to the shelter with significant wounds. A rope with a buckle had been tied so tightly around her neck that it had become embedded, causing her severe pain. Had the rope been any tighter, our clinic staff feared it may have affected her trachea. In the beginning, Isabel was in so much pain that she let our staff help her in any way. However, shortly after our clinic staff had initially cared for her, she became very reserved and defensive. When unfamiliar staff members would try to approach her, Isabel would back into a corner and growl.

Broken hearted to see this puppy so untrusting of people, our clinic staff members worked endlessly to socialize her. They brought Isabel into their offices when they were working and interacted with her whenever they could to get her accustomed to being in the presence of humans. It didn't take long before Isabel realized that she had found more than friends, but a family that would do anything for her. No longer does she growl or back away, but now when you walk past her she jumps up, wags her tail, and licks your hand to say hello. Most importantly, Isabel now acts like a puppy; she plays, she explores, she learns, and she is coming into her own as a loyal and loving companion.

Though her pain is still visible on her neck, it is no longer apparent in her personality. We can see that she is ready to find a new home, so we will work to make sure her health matches her energy and enthusiasm for her new found life. Her forgiveness and courage to overcome her past is remarkable and reminds us how lucky we are to have dogs like her in our lives. Even when the world has wronged her and pushed her aside, she still loves and gives happiness to everyone she meets.

Miles - Adopted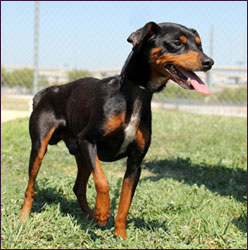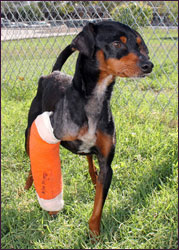 Miles has a story that has been told too many times; he was found by a SAHS staff member dodging traffic on a busy interstate. The only way he survived was by making his way to the median where he was picked up and then brought to the shelter. Once at the shelter, Miles was examined by one of our contract veterinarians who discovered several large scars on his right shoulder and hip and a wound on his front right elbow. Because of his injuries, Miles is unable to walk on his front right leg or even put any pressure on it. Unable to determine the exact cause of his pain and injuries, Miles has an appointment at an off-site facility to have x-rays taken. We know once we are able to find out more about his condition we will be able to help him make a full recovery.

Even though we know Miles must be in a lot of pain, he never shows it. He refuses to let his injuries hold him back as he continues to run, play, and be active. Our staff has grown to love this upbeat and friendly dog and we can't wait to help him on his way to recovery!

Olive - Adopted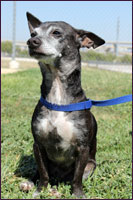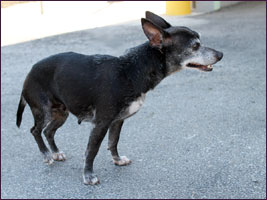 When Olive was found by a SAHS staff member, she knew right away that Olive had an injured leg and needed some extra special medical attention in order to get better. However, at the time, the shelter was full and there was no space for Olive to be treated. Our staff member cared for Olive for more than a week until we had the space and medical supplies to treat her. Once at the shelter, Olive was sent to an off-site facility for x-rays; however, her x-rays came back inconclusive. After our Shelter Medicine Veterinarian reviewed Olive's history and test results, she decided that Olive needed to see our friends at the South Texas Veterinary Specialty Clinic so she could receive the advanced care she needs.

While she waits for her appointment at the specialty clinic, Olive has been under wonderful care by our clinic staff members who make sure she is comfortable and content. Despite her injuries, Olive has remained active, social, and lively. Unless you looked at her injured leg, you'd never know she was hurt because she is so positive and happy. We are excited that Olive will soon be getting the help she needs and look forward to the day when this great dog can make someone a loving companion.

Tommy - Adopted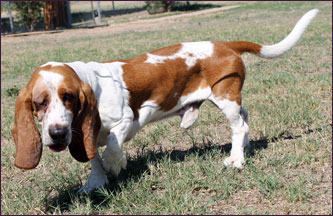 It's hard to imagine that any dog would not be able to get along with Tommy, a very friendly and mellow hound who was recently brought to the shelter, but he was attacked by another dog in his previous household. Unfortunately for Tommy, before the attack he suffered from an eye condition that left him blind in one eye, and from the attack his other eye was severely injured, rendering him completely blind. Shortly after arriving at the shelter, Tommy underwent an eye operation in order to make him more comfortable and help him heal. The in house surgery was a great success and since then our staff has loved taking care of Tommy. Though he is lacking his sense of sight, his other senses are heightened and he gets around just fine. As soon as he hears the sound of a familiar voice his tail wags and he tilts his head to make sure he catches every word spoken. Tommy has also already learned his way around the shelter pretty well; he now knows where to take a few steps down the stairs and the path to follow to get back to his bed after he's been out for a walk. To top it off, this great dog is house trained and ready to adjust to a new home. Tommy is up for adoption and we can't wait to see him make some new friends that will surely love him as much as we do.
---
Puppies Rescued


As the school year begins, life has been hectic, especially around San Antonio's many colleges. Unfortunately, last Saturday, August 20, a worker at a University of Texas San Antonio apartment complex, found more waiting for him at his job site than he was expecting. As he entered the apartment to begin his day's work, he heard crying coming from outside. After a little investigating, he found a plastic container that had been left in an outside storage room. A small hole had been cut in the container's lid and inside 8 puppies were crammed together, barely able to move or even breathe. Unable to leave the pleading puppies, he made an appointment at the shelter and brought them in, along with the storage container that he found them in to show what these poor dogs had been through.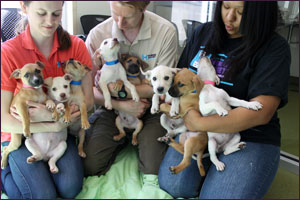 "I didn't just want to give them to anyone; I wanted to make sure they found good homes the right way," he said. "The puppies are so sweet and my wife and I care so much about them. Here we know they will find the homes they are supposed to be in."

Today all of these adorable puppies are up for adoption. Give them the second chance they deserve and welcome them into your loving family today!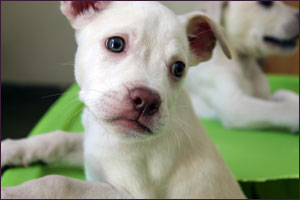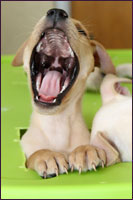 ---

Brownie - Adopted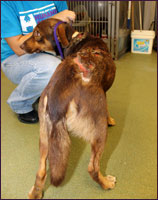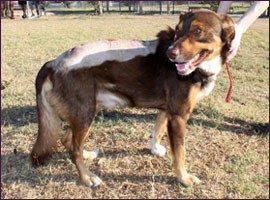 Brownie came to us with a burn across the entire length of his back. Since surgery, he has been recovering well and now he is up for adoption!

King - Adopted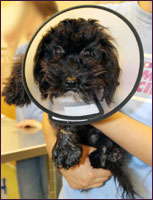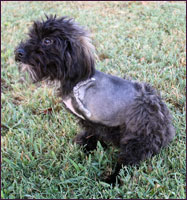 King came to us with a rubber band tied tightly around his leg. Amputation was the best option to give him a chance at a normal life. Being so young, King is in need of a lot of TLC and help recovering, but he's up for adoption and ready to find a family.

Prince - Adopted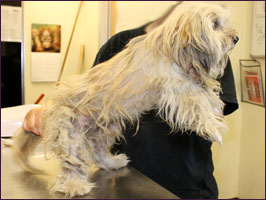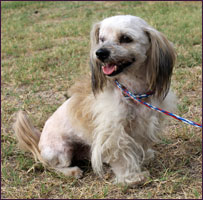 Prince was found with a missing eye and matted hair. He had a successful eye surgery and beauty makeover and is now up for adoption.

Toby and Trooper - Adopted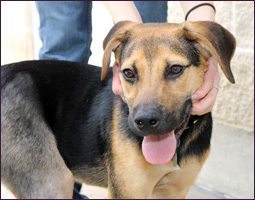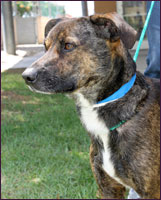 Meet Toby and Trooper; they were both young, scared, and injured when they came into our care. To someone else, they were just strays who shouldn't have lived, but to us they were two pets that deserved a chance for friendship, family, love, and most importantly, life. Today we are proud to look at both Toby and Trooper as two amazing survivors. And, despite everything they have endured, physically and mentally, these dogs are nothing but gracious and loving towards people.
Read Toby's and Trooper's story!
Read Troopers full story and watch him getting adopted!

SAHS Transfers in Dogs from Local Cruelty Case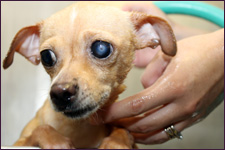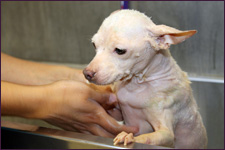 The San Antonio Humane Society transferred in 8 dogs from last weekend's animal cruelty case. Animal Care Services had initially seized the dogs, but called the SAHS for assistance.

The SAHS is able to help these dogs in need of additional medical care and, as always, is more than happy to assist the local ACS. As resources allow, the SAHS offers its services to transfer in rescue animals and those dogs and cats in need of care, rehabilitation, and adoption.
See Press Release
Read more and watch a video about this case!







On August 10, 2012, we had to say goodbye to an incredible man and member of the San Antonio Humane Society family, Mr. Bill Michaels. Aside from being a dedicated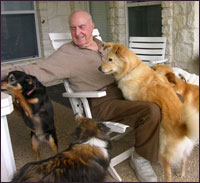 supporter, Bill exemplified the leadership, vision, and passion that were needed to help us make invaluable strides in our mission. It is because of him that the Bill and Helen Michaels Medical Rescue Fund was founded and stands today as a living legacy to their passion for the medical rescue of sick and injured dogs and cats. One thing Bill was never short on was his confidence in our facility and staff, something that still inspires us daily. As an organization, each day we strive to live our mission with passion the way Bill did, and hope that our continued strides to ensure every dog and cat has a permanent, loving home will be a testament to his good-will, dedication and stewardship to all those animals who seek shelter and care here at the San Antonio Humane Society. Our deepest sympathies go out to his family and many friends, and please know that both Bill and Helen Michaels will always have a place in our hearts.