Humane Education
Connected Classroom
The San Antonio Humane Society is excited to present Connected Classroom, a virtual Humane Education program that brings the San Antonio Humane Society into your home! This exciting new program gives you the flexibility to learn about and explore our shelter on your own schedule. Each 2-week session includes a new interactive virtual classroom to explore each day, daily Facebook live videos to engage with our animals and staff, a supply kit containing materials to complete activities at home*, and SAHS swag - including a never before seen t-shirt design! Materials must be picked up at the SAHS on the Thursday, July 16th or Friday, July 17th, before the session begins (you will select your pick-up time when you register for a supply kit).
Registration for this 10-day program is offered for $115 and includes options for elementary and middle school students. In week one (7/20-7/24) we will be learning all about dogs and cats - interpreting their behavior, training techniques, and the importance of providing enrichment for all of our animals. In week two (7/27-7/31) we will learn what it takes to be a veterinarian and take a closer look at the SAHS medical teams and the amazing work they do to help dogs and cats in our community.

For more information, email education@SAhumane.org
*Completion of some of the activities will require the use of household items such as scissors, toilet paper tubes, and other recycled materials. Please supervise your child while they are participating in all SAHS Connected Classroom activities.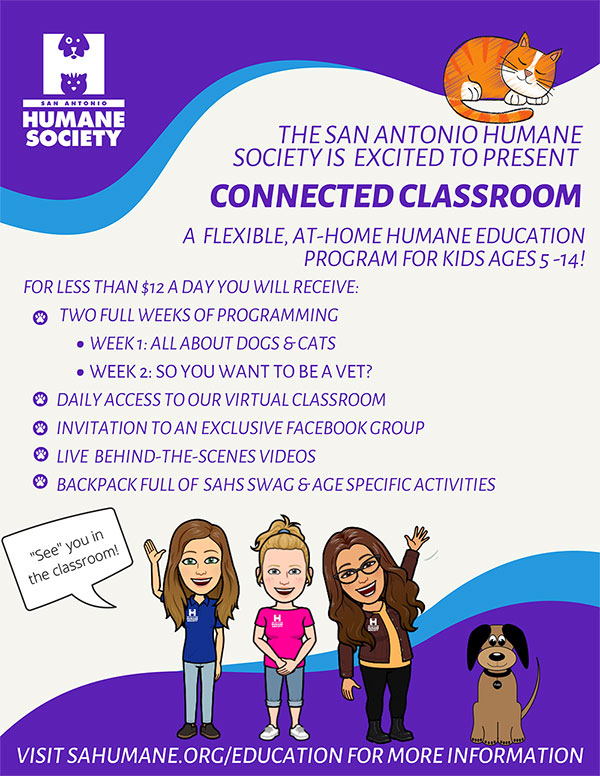 ---
Humane Education - General Information