Brooks Spay/Neuter Clinic (Spanish)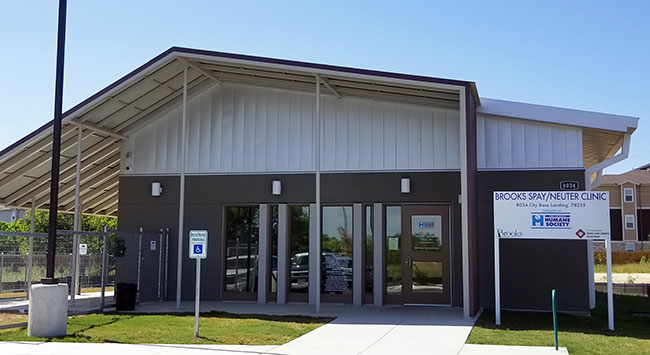 8034 City Base Landing
San Antonio, TX 78235
210-963-7150
Las horas regulares de operación se encuentran a continuación; sin embargo, debido a eventos de bienestar y esterilización / castración continuos, requisitos de personal, días feriados importantes, etc., las horas están sujetas a cambios. Es muy recomendable que llame al 210-963-7150 antes de visitar para obtener el horario más actualizado.
Horas regulares (las horas están sujetas a cambios):
Martes - Sábado
7:30 a.m. - 5:00 p.m.
Haga clic aquí para ver los horarios de la Clínica de Bienestar
La clínica está cerrada durante todos los días festivos importantes


---
Promociones Actuales (English) | Servicios de Esterilización/Castración (English) | Servicios de Clínica de Bienestar (English)
¡Los residentes de San Antonio que buscan opciones de bajo costo para mantener a sus mascotas saludables ahora tienen un nuevo recurso en la Brooks Spay/Neuter Clinic!
El nuevo edificio es manejado por la San Antonio Humane Society y es propiedad de la ciudad de San Antonio ubicada en Brooks.
La Brooks Spay/Neuter Clinic ofrece cirugías de esterilización/castración de bajo costo (con cita previa) y Clínicas de Bienestar (por orden de llegada). ¡Los servicios de atención preventiva incluyen vacunas, pruebas del gusano del corazón, microchips y más!
¿Preguntas? ¿Busca más información?
Comuníquese con la recepción de la Brooks Spay/Neuter Clinic:
Correo electrónico: brooks@SAhumane.org
Llamar: 210-963-7150
Cat Pavilion - Closed for Renovation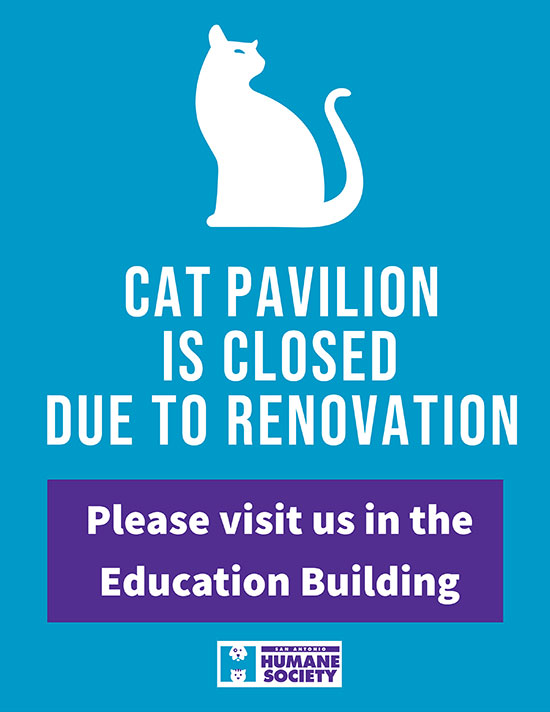 We apologize for any inconvenience!
ADOPTED - Pepper
You'll honestly never forgive yourself if you pass this girl up. She's the kind of girl that you think about and wonder, "what if?" It's Pepper! She's a positively perfect pibble. This girl is so darn affectionate, you'll want to do nothing more than just pamper her with pets all day. And she'll gladly accept them! She'll even roll over and over for belly rubs. She's truly a delight. When she's not getting affection, Pepper can be an energetic girl: she'd make the perfect running buddy! Although she can pull slightly while on her leash, she's pretty good about being redirected to follow your lead.
Pepper came to the San Antonio Humane Society after being abandoned as a very pregnant girl. She quickly went into foster care and gave birth to quite a handful of puppies. Now that all her pups have found forever homes, Pepper is ready to settle into a home of her own. Please visit this sweet lady today. She's been with us so long and we are baffled!
ADOPTED - Oona and Shellington
UPDATE: Oona and Shelltington both found her new families!
Of the over 22+ dogs we recieved during an emergency seizure conducted by City of San Antonio Animal Care Services in May 2019 (involving over 50 other pets), Oona and Shellington are the final two still awaiting adoption. These sweet and lovable canines have been through so much and have come so far! They're playful, do well with people and pets, and know how to sit for treats. We hope they won't have much longer to wait!
ADOPTED - Flora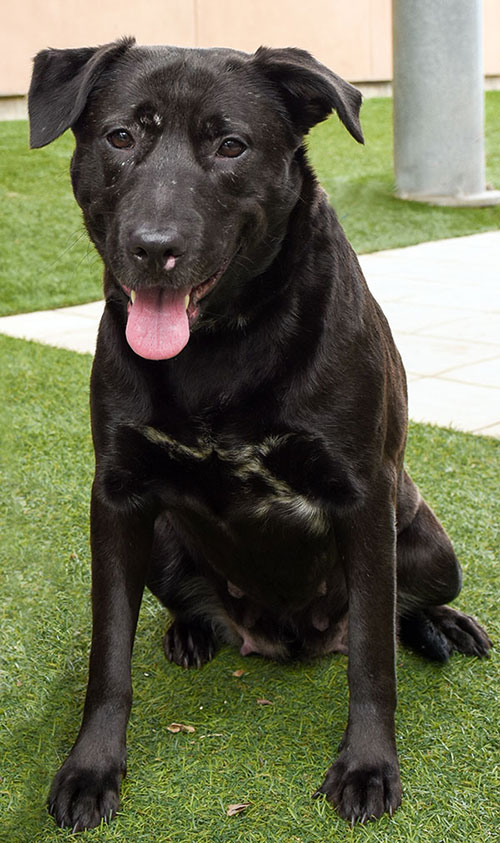 Flora has everything to offer her fur-ever family, even though she can be a little shy at first. Once she's warmed up, Flora eats up all the attention she can get! She was brought in as part of the 50-dog seizure in partnership with City of San Antonio Animal Care Services and has been adjusting well. She's eager to start her new life with a patient and loving home, so come visit this lovely lady today and make her smile even bigger!
Age: 5 years Weight: 57 pounds Breed: Retriever mix
Subcategories