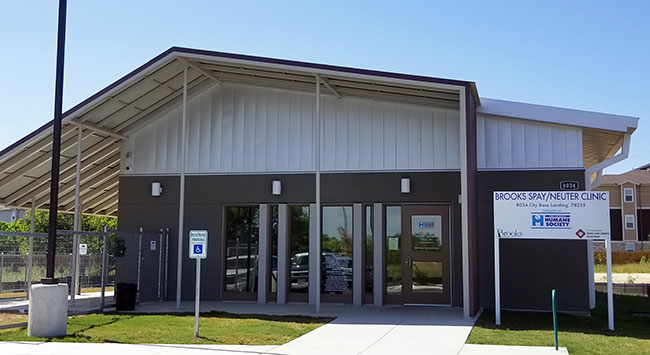 8034 City Base Landing
San Antonio, TX 78235
210-963-7150
Regular Hours of Operation (hours are subject to change):
Tuesday – Saturday
7:30 AM – 5:00 PM
Click here for Wellness Clinic hours of operation
Closed on all major holidays



---
Current Promotions | Spay/Neuter Services | Wellness Clinic Services
San Antonio residents looking for low-cost options to keep their pets healthy now have a new resource in the Brooks Spay/Neuter Clinic!
The new building is operated by the San Antonio Humane Society and owned by the city of San Antonio located on Brooks.
The Brooks Spay/Neuter Clinic offers low-cost spay/neuter surgeries (by appointment) and Wellness Clinics (first-come, first-served basis). Preventative care services include vaccines, heartworm testing, microchipping and more!
Questions? Looking for more info?
Please contact the Brooks Spay/Neuter Clinic front desk:
E-mail: brooks@sahumane.org
Call: 210-963-7150