Capital Campaign - Project Goals
Project Goals - Capital Campaign
Surgical Suite
- DOUBLE the number of spay/neuter surgeries performed at the SAHS on Fredericksburg Road to an annual count of 20,000. Sterilization is the single most powerful way to prevent unwanted litters and ultimately decrease the homeless pet population!
- Simultaneously perform surgeries on injured pets without putting spay/neuter surgeries on hold.
Medical Clinic
- DIVERSIFY and EXPAND the types of cases we are able to receive.
- Isolate the management of contagious, but treatable, diseases.
- Increase space to hold and care for animals awaiting and recovering from treatments or procedures.
- Create new and separate spaces for animals in need of specialty surgery and rehabilitation.
Overall Capital Improvements Benefits
- Construct separate holding bays for pets within each functional location of the building in which they receive service, to include separation for cats and dogs.
- GAIN additional space to receive new pets without disrupting the existing pet population and kennel space.
Education Building Renovation
- INCREASE our community reach due to the allocation of space (once designated for various programs and wellness services) to outreach and humane education opportunities. SAHS educators continue to develop and maintain valuable partnerships with schools, youth groups, organizations, and clubs.
Capital Campaign - SAHS Milestones
SAHS Milestones
November 2002
Grand Opening Celebration
Opened our doors on Fredericksburg Road.
June 2004
First Camp Humane
Educated dozens of children on the importance of responsible pet ownership and humane pet treatment.
August/September 2005
Hurricane Relief Efforts
Assisted with disaster relief and pet rescue efforts during Hurricane Katrina and Hurricane Rita, sheltering over 1,500 pets.
August 2009
Grand Opening of Spay Neuter Suite
Conducted nearly 7,500 spay/neuter surgeries on shelter and public pets in its first full year.
November 2012
Partnership with ACS
Transferred and adopted out over 2,000 pets from Animal Care Services (ACS) and helped to more than double their live-release rate.
March 2017
New Services at Brooks
The SAHS begins operations at the Brooks Spay/Neuter Clinic, offering free and low-cost wellness services and spay/neuter surgeries to the city's Southside.
August/September 2017
Hurricane Relief Efforts
Transported supplies and rescued, temporarily sheltered, and transferred over 400 dogs and cats from affected areas during Hurricane Harvey.
December 2017
Biggest Impact Year Ever
15,903 pets spayed/neutered
5,178 dogs and cats adopted
6,190 children, teens, young adults, and seniors reached through Humane Education programs
August 2018
Launched Picture the Pawsibilities Capital Campaign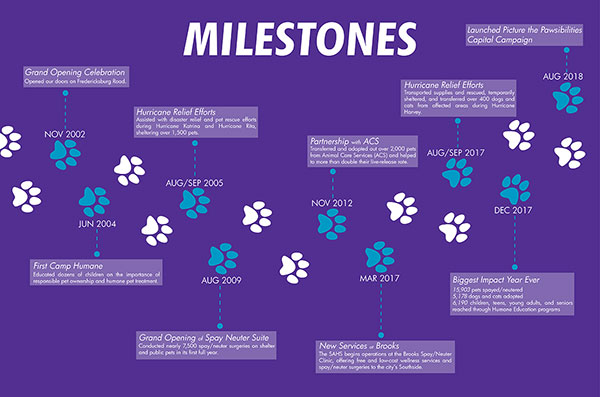 Friends for Life Luncheon
Wednesday, October 9 11 a.m.-1 p.m.
Mays Family Center at the Witte Museum (3801 Broadway St, 78209)
More info: The Friends for Life Luncheon is an annual event benefiting the San Antonio Humane Society and is a celebration of the lifelong connections made between human and pet. The event brings community members together to rally around the cause of educating the community and helping to protect and improve the lives of dogs and cats in San Antonio. Ticket and silent auction info coming soon!
COVID-19
Message About COVID-19 and the San Antonio Humane Society
Dear Friends for Life,

At this moment of uncertainty, we know you are concerned about our shelter pets and staff at the San Antonio Humane Society. We are so grateful for all of our supporters, as it is only with your help that we are able to continue to provide the highest quality care for our animals during this time. While we are closed to the public, our staff remains at the shelter to provide necessary medical treatment, food, water, enrichment, and loving care to each and every one of our dogs and cats.

As a nonprofit organization, our funding is generated through multiple sources, including from our regular programs (spay/neuter, wellness clinics, and adoptions) and general donations. While we are committed to protecting the health and safety of our community during this pandemic, closing our doors temporarily will have a tremendous impact on our operating budget, and in turn, our ability to continue our mission of protecting and improving the lives of dogs and cats in San Antonio.

Please consider making a donation to our San Antonio Humane Society Emergency Fund to assist with the care of our animals and staff – we need your help now more than ever.
Sincerely,
Nancy F. May
President/CEO
As a local nonprofit, we are not affiliated with the Humane Society of the United States (HSUS). We do not receive funding from the federal government, the HSUS, or the American Society for the Prevention of Cruelty to Animals (ASPCA).
Giving Tuesday 2020
Giving Tuesday Now
Join us for a global online day of giving and unity on Tuesday, May 5.
Your donation helps thousands of pets each year. With your support, we can continue saving lives for as long as it takes.
A gift of $35 could sponsor a night's stay for one of our shelter dogs or cats; $50 could help provide medical care for ill or injured pets; $70 could cover the cost of a spay/neuter surgery to prevent more homeless pets.
Thank you for your support, and for saving lives this #GivingTuesdayNow!
As a local nonprofit, we are not affiliated with the Humane Society of the United States (HSUS). We do not receive funding from the federal government, the HSUS, or the American Society for the Prevention of Cruelty to Animals (ASPCA).
Subcategories