Capital Campaign

Picture the Pawsibilities - Capital Campaign
The San Antonio Humane Society (SAHS) has begun construction of a state-of-the-art medical building at its location on Fredericksburg Rd. that is estimated to provide services for 20,000 needy pets in our community.
Capital Campaign - Committed Lead Investors
Committed Lead Investors
Medical Building - Susan Naylor
The Medical Building will be a new source of expanded and regularly offered services that will benefit thousands of injured, abandoned, and homeless pets who come through our doors every year. The building will also be an essential resource to responsible pet owners in search of low-cost spay/neuter and wellness services.
Medical Reception Lobby - Harvey E. Najim
Within the Medical Reception Lobby, clients will be able to take advantage of separate areas based on species and low-cost services needed, ensuring prompt and efficient customer service to the people and pets we serve. This will allow the more than 20,000 dogs and cats that we serve annually, and their owners/caretakers, to wait in a stress-free environment.
Education Building Renovation - Will Smith Foundation & H-E-B Grocery Company
The Education Building provides an area for multiple Camp Humane day camps, humane education programs, partnerships with local schools and community groups, responsible pet ownership and dog training classes, and, of course, an indoor and outdoor area for our own shelter dog training and socialization. It's clear that we're outgrowing this space, but with the Education Building Renovation, this area will continue to serve as a vital resource for community outreach opportunities, Humane Education, and much more.
Outdoor Courtyard - Nancy Smith Hurd Foundation
The Outdoor Courtyard will be an extension of our campus' beautiful landscape, providing more space for adopters and volunteers to walk and socialize with the deserving animals in our care.
Medical Entrance Courtyard - The Gordon Hartman Family Foundation
Due to the need of our provided services, the line for scheduled spay/neuter surgeries and receiving opportunities can be lengthy. In continuing with our campus' welcoming environment, the Medical Entrance Courtyard will feature an inviting open space for guests and pets to enjoy as they wait to take advantage of our low-cost services.
Radiology Suite - Beldon Roofing Company
The Radiology Suite will include a digital X-ray and portable ultrasound machine that will help to expedite critical evaluations and lead to more accurate diagnoses for injured pets in need of medical care. This space will allow our staff to centralize this location for all X-ray procedures and decrease the stress of pets.
Rehabilitation Room - Mays Family Foundation
Numerous injured pets enter our shelter, and it is essential to provide them with the deserving care appropriate for each case. Most pets that undergo orthopedic surgery require a minimum of two months rehabilitation before they are ready for adoption. The Rehabilitation Room will provide necessary post-operative rehabiliation time, space for range of motion, stretching, and balancing exercises, therapy through the use of dry and underwater treadmills, and more to contribute to faster and more thorough healing.
Orthopedic and Specialty Surgery Suite - Lynnell & David Burkett
The Orthopedic and Specialty Surgery Suite will serve the pets of our community in multiple life-saving ways. Many pets that come into our care are suffering from injuries that require very extensive surgical procedures such as limb amputations, reconstructive surgeries, or soft tissue removal repairs. The Orthopedic and Specialty Surgery Suite will provide ample space and, most importantly, time to perform these complex surgeries.

With this space dedicated specifically to these specialty surgeries, routine spay/neuter surgeries can continue uninterrupted for public and shelter pets.
Kitty Cottage Renovation - Trudy & Ed Moore
Our Kitty Cottage is home to thousands of cats and kittens annually, and although we make it our top priority to ensure the health and happiness of each feline in our care there is a huge correlation between stress and illness.

In a new environment, cats adjust at their own pace and may become anxious leading to a lack of appetite or other health ailments. By renovating this building, our feline residents will have larger housing and more privacy, spending their days in a comfortable and stress-free zone with space to roam and stretch their legs
while perching up on elevated structures.
Capital Campaign - Donate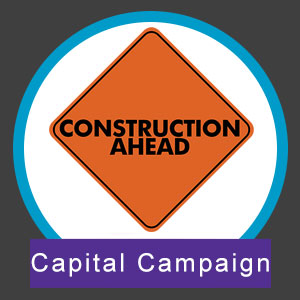 Capital Campaign - Leadership
Capital Campaign Leadership
Traci B. Gomez
Chief of Community Engagement
Nancy F. May
President/CEO
SAHS Board of Directors
Eric McCormick, Chair
Martha Lupo, Vice Chair
Scott Matkin, Treasurer
Kathy Zeltmann, Secretary
Glenn MacTaggart, Past Chair
Ron Bartnett
Susan Beldon
Terry Brechtel
Lynnell Burkett
Dina Cole
Sandra Banks Dance
Derick Fletcher
Max Golman
Christian Ledoux
Beth Morgan
Robert Ochoa
Art Ordoqui
Denise Pride M.D.
Cathy Ritter
Jessica Flynn Saldaña
Hilary Saunders
Mary Stefl, Ph.D.
Subcategories