El Rey Fido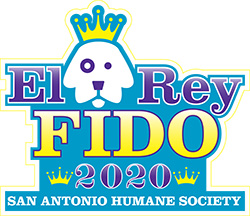 UPDATE: The fundraising deadline has been extended to Thursday, April 30, at 6 p.m.
Click here for FAQ, and to sign up!

El Rey Fido began in 2002 as a feel-good spin on the already long-established Fiesta Royalty title of a similar name: Rey Feo. But what began as a pun has since evolved into an annual fundraising competition that raises tens of thousands of dollars each year for countless needy dogs and cats at the San Antonio Humane Society (SAHS).
Who will be El Rey Fido XVIII? The fundraising competition's top fundraising dog will be bestowed the honor of the crown, with four runner-ups joining the Royal Court.
It all leads to Fiesta® San Antonio and the SAHS's El Rey Fido Coronation, an official Fiesta® event, in November 2020 where San Antonio's top dogs have the opportunity to be dressed in true royal attire (velvet, sequins, and all).
Don't miss your chance to support homeless pets in your community and become a part of seventeen years of SAHS Fiesta tradition